Seal Thinks He Could Have Changed Amy Winehouse With Some Advice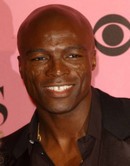 Seal regrets missing the chance to meet Amy Winehouse because he wanted to give the troubled singer "a mouthful" of stern advice to help her overcome her personal problems.

Seal admits Winehouse's well-documented addiction struggles and partying frustrated him because he felt she was wasting her potential and wanted her to focus on her career instead.

He tells Britain's Daily Star, "I used to get quite angry at Amy Winehouse because I love our industry, I think it has a lot of integrity and don't think it's a birthright to be part of it.

"I have very little tolerance for people who don't respect it. If you're in the fortunate position of being able not only to operate in our industry but to be successful commercially, it's a privilege. If they don't have that much talent, they'll fall by the wayside, but that was not the case with Amy - she was one of the greatest voices I have ever heard. I believed her...

"(Her song) 'Love is a Losing Game' would make me cry - and it takes a lot. I'm a little jaded. But I heard her singing that and it brought tears to my eyes."

Seal was devastated to learn of Winehouse's death in July as he had hoped to one day talk to her about her demons.

He adds, "When I heard she had died I was really sad because I wished I could have bumped into her somewhere. I don't know if anyone cared enough. Maybe they did - I don't know. But she would have got a mouthful from me.

"I was so excited by... her vocal performance. It was a breath of fresh air, that's why I would have made an attempt to give her my view... I don't know if anyone was around Amy who she respected enough to give her a mouthful and say, 'It doesn't last forever.' It was a crying shame."

An inquest into Winehouse's death last month resulted in a verdict of death by misadventure after a booze binge.