Screamfest LA 2012 Review: 'Would You Rather' Pulls Out All The Horrific Stops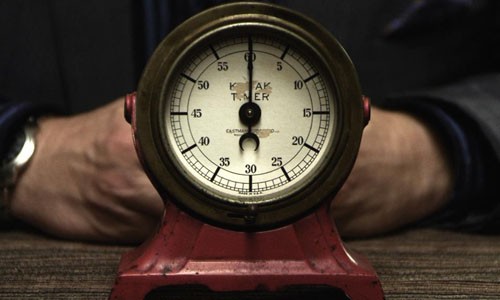 Some films are so dead on and topical that their parallels to modern day and implications cannot be ignored.  What is so fascinating and disturbing about the sadistic game outing "Would You Rather" is not just the obvious levels of depraved choices that unfold, but also how much of an allegory the film is for our current financial woes.  Sure the sick, morally bankrupt and outrageous clock-timed tasks asked of downtrodden contestants may be somewhat over the top, but in the current light of a disappearing middle class suddenly the out there doesn't seem so far away.
Iris is a young girl trying to keep her head above water.  She's back at home, looking for work and saddled with the task of taking care of and financially supporting her ailing brother who is dying and in desperate need of a bone marrow transplant.  Her doctor sympathizes with her case and offers a possible solution – enter Shepard Lambrick.  A rich reclusive and master showman, Shepard runs the Lambrick Foundation and offers Iris a shot at help.  Simply come to dinner, play a game and the winner goes home with everything from money to medical expenses taken care of completely.  Problem is the game, Would You Rather, is much more then Iris and the rest of the players have bargained for.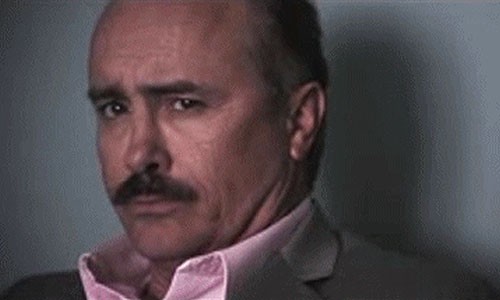 First off, nobody does spectacle and sardonic better then the great Jeffrey Combs.  As the debonair host Shepard Lambrick, Combs chews the scenery, adds an air of class and gives fans yet another flavorful character to sink their teeth into.  It's a lush and anchored performance that serves "Would You Rather" well, especially when the game begins to turn nasty and ugly.  And rest assured fright fans, "Would You Rather" pulls out all the horrific stops to provide one unforgettable match of skill and endurance.  (I'm not spoiling any of the surprises here, but Combs' challenge for folks who are vegetarian and recovering alcoholics made me laugh out loud with evil joy!)  Thankfully the guests are as engaging as the game rounds itself, complete with the likes of a sullen John Heard, a bitchy Sasha Grey, a humbled Eddie Steeples and especially lead gal Iris played with equal parts horror and heroine by Brittany Snow – great work by all involved.
With both fun and fear, there's more then enough within to keep the genre fans glued.  But for those with more of a social conscience, there are more disturbing themes at work here.  The rich exploiting the poor has always been the norm, but the lengths the weak are willing to go is what comes across as shocking here.  "Would You Rather" may be holding up an askew and heightened mirror of current society, but it is a mirror nonetheless.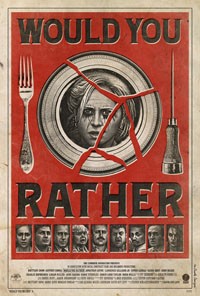 Title: "Would You Rather"
   Stars: 4
   Genre: Thriller/Horror/Drama
   Cast: Jeffrey Combs, Brittany Snow, Sasha Grey
   Director: David Guy Levy
   Release Company: IFC Midnight
Go to www.screamfestla.com for more details on the fest and stay tuned to Starpulse.com for continuing coverage of Screamfest LA 2012 – more to come!