Screamfest LA 2012 Review: 'American Mary' A Seriously Savory Mind Job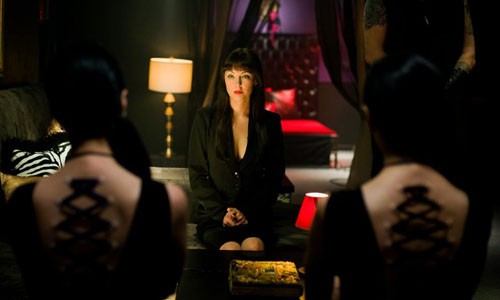 Does anyone remember watching early work by odd auteurs like David Cronenberg or Dario Argento and having an epiphany moment of 'here is a talent not to ignore' – welcome the Soska Sisters.  The vibrant young duo and their perversely and passionately abnormal movie "American Mary" is film unlike anything I've seen in recent years.  A wonderfully insane conundrum of horror, drama, revenge and the effect power has over people – in other words a seriously savory mind job.
Mary Mason is a hard working med student with equal parts potential and accruing debt.  In order to facilitate her aspirations, she tries for a job at a local strip club, but fortunately fate steps in.  Faced with a man up who has been brutally hurt, the connected club boss makes her an offer she can't refuse – big money for a little unlicensed medical service.  But after completing the job successfully, word begins to get around about the gal with an affinity for the blade and soon Mary finds herself neck deep in the very strange world of body modification.
There are certainly a ton of twisted story arcs not listed above (I'm not going to spoil them for fans!) and they all make for a wonderfully original off kilter cinematic experience.  "Playing God" for the deviant crowd, "Nip/Tuck" without television censorship and a pinch of "Descent" for the surgically excited, "American Mary" throws all in a creative blender and pushes puree with gusto.  I would liken it to early Cronenberg, as the visceral visual story and overall eccentric vibe really create something that's way too hard to categorize.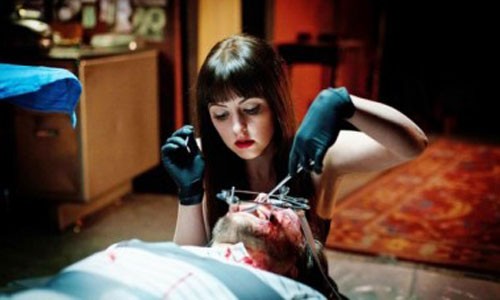 And right at the center of the Soska Sisters askew vision is a fearless chameleon performance by "Ginger Snaps" alum Katharine Isabelle as the weary Mary.  Part soul lost dreamer, part power hungry madwoman, but all with a sense of sadistic style, Isabelle's Mary is the epitome of female empowerment gone awry.  Of course it helps that she's surrounded by equally layered men like infatuated club owner Antonia Cupo and personal bodyguard Twan Holliday, but this film is much more interested in the female perspective.  In fact you could say that the ladies who enlist Mary's services – like Betty Boop obsessed gal Beatrice and infatuated doll groupie Ruby Realgirl – are equally conflicted and like their faithful surgeon have a love/hate relationship with themselves.
But I have to give serious props to the writer/director team Jen and Sylvia Soska.  Not only do they deliver the signature sleazy stuff plus blood and gore galore, but pull it off with a distinctive air of class.  Plus mixing in humor (a cameo as twin gals looking to do a little appendage exchange makes the Soska's a triple threat!), drama (love the unconventional heart-to-heart scene between Mary and her husky protector Lance!) and a little revenge (this one makes "Boxing Helena" look like a "Sesame Street" episode!) shows a real affinity to buck the status quo – a loud and welcome voice that cannot be ignored.
Like strange artists before them (David Lynch comes to mind), I'm both scared and excited to see what The Soska Sisters come up with next.  But it's in that realm of the unknown, the place of the complex and on the tightrope of the unconventional where great work lies in waiting.  It's an unknown world where most would be lost – thankfully the sick and savvy Soska Sisters seem to know the way.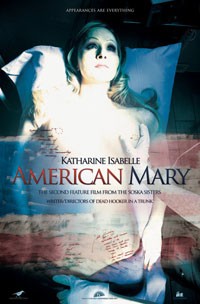 Title: "American Mary"
   Stars: 4
   Genre: Thriller/Horror
   Cast: Katharine Isabelle, Julia Maxwell, Paula Lindberg
   Director: The Soska Sisters
   Running Time: 103 Minutes
   Release Company: IndustryWorks Pictures
   Website: http://twistedtwinsproductions.net/americanmary.htm
Go to www.screamfestla.com for more details on the fest and stay tuned to Starpulse.com for continuing coverage of Screamfest LA 2012 – more to come!