Screamfest LA 2012 - Final Day 'Wrap Up'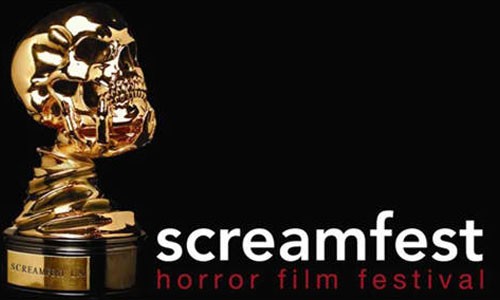 Screamfest LA 2012 is over folks, but our coverage here at Starpulse continues!  We only have two more pieces to go including a fest finale piece complete with some of the highlights from this year's events.  But today we're focusing on the last day of the fest and since it had a myriad of cool flicks, interviews and more we're encapsulating them all in a single coverage piece we're calling...Screamfest Final Day Wrap Up!
Review: "Nightmare Factory"
Stars: 3 ½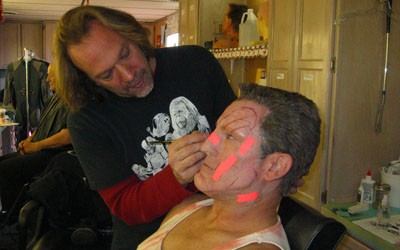 What I like most about the doc "Nightmare Factory" is how personal it gets.  We've seen multiple looks at famed KNB EFX guru Greg Nicotero, but none have gotten as up close and personal with the man himself.  Outside his work for the likes of Quentin Tarantino and Frank Darabont (not to mention his affinity for all things zombie!), Nicotero is actually a husband, family man and grounded movie geek – who would have thought.  There are certainly candid insights (love hearing John Carpenter really get down and dirty about effects 'divas'!), honest moments (KNB pal Howard Berger shows real concern about their dwindling place in the CGI heavy movies of today!) and stories galore.  But it's Nicotero lay barren that eclipses all – the boat is only as good as the helmsman steering it.
Review: "Outpost: Black Sun"
Stars: 1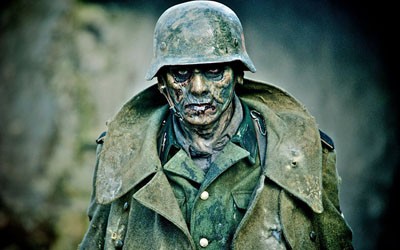 "Outpost: Black Sun" starts off with a fever pitch and rattling bang (ever want to get even with an old Nazi war criminal?!) and then falls under the unfortunate spell of taking itself way too seriously.  What should have been a lean, mean, dead Nazi machine instead goes on for a bloated amount of time, turns into a dreary drama and even has the undead balls to end on a cliffhanger (aka Outpost 2 anyone?!) – I'd tell you to drop dead if you weren't already.
Review: "The Factory"
Stars: 2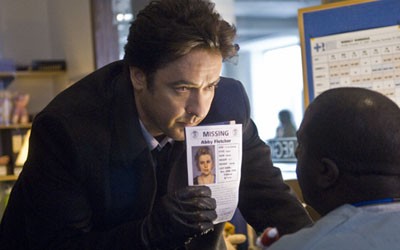 I'm the kind of filmgoer who shuts his brain down when watching a story with any kind of whodunit.  It's not that I couldn't figure out twists and turns, it's just that I choose not to.  (My father on the other hand guesses in the first two minutes – like father, like son my ass!)  So when "The Factory" featuring a sullen (but surprisingly dim) John Cusack as a detective chasing a serial killer unraveled I happily watched in ignorant bliss...until mid way through.  While still in a 'no thought just watch mode,' all the surprise angles in "The Factory" suddenly hit me from nowhere like a ton of bricks – no thought required.  The problem with the film is it gives way too many clues, too much information and frankly just gives it all away - even for those not looking.  It's death for a mystery thriller and for "The Factory" it's a open and shut, case closed on clever scripting.  (Shame on you all!)   
Q&A: John Carpenter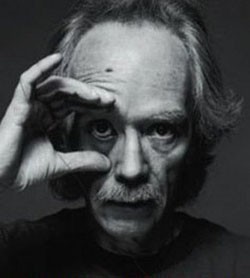 Screamfest was honoring the legendary John Carpenter with a Career Achievement Award and even with some of his lame ducks of late the guy really does deserve it.  With his amazing array of horror ("The Thing" is a masterpiece!), sci-fi ("Dark Star" had it's moments!) and fantasy films (who could forget the 3 Storms of "Big Trouble in Little China!"), does anyone have as many notable flicks under their belt then Carpenter?  (Plus I named my kid after one of the characters in his movies, so I'm officially an uber-fan!)  After being introduced by character actor and frequent Carpenter collaborator Peter Jason, the big man took the stage for a little Q&A fun and he did not disappoint.  My question was on I had wanted to ask for a long time.  With "Starman" sporting three legendary effects men Dick Smith, Rick Baker and Stan Winston all working for the first and last time all together on the famed transformation sequence, would we ever see said sequence that was cut up back in it's entirety in a Blu-ray or DVD special edition?  Thanks to my good buddy over at Why So Blu? critic Aaron Neuwirth you get to actually hear the answer – check it out the audio interview by clicking...
...HERE!
Carpenter Tribute Videos Review
There was a tribute video played before Carpenter came out and I must admit it was a tad lagging in the best moments department.  What kind of tribute has no "They Live" fight footage or Roddy Piper lines, no Jack Burton-isms and no Issac "Duke of New York" footage?  Disappointed.  (But check out a better one found by Aaron below!)
Also there was another tribute vid right before the feature - an obnoxious and laughably bad gamey music video entitled "David Lo Pan Style" - 'nuff said.
"Prince of Darkness" and Artwork Peek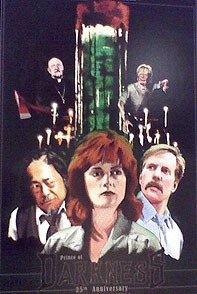 So they were screening "Prince of Darkness," one of Carpenter's most underrated flicks, on the big screen for fans and it was glorious stuff.  (I'm not reviewing it – if you haven't seen it shame on you!)  Also there were some tasty art posters for sale featuring Carpenter's various films, all with money going to charity.  Below are some of my favs:

One more article to go folks – the Screamfest LA 2012 Best of Fest "Wrap Up" tomorrow!