'Scream 4': Another Movie, Another Dollar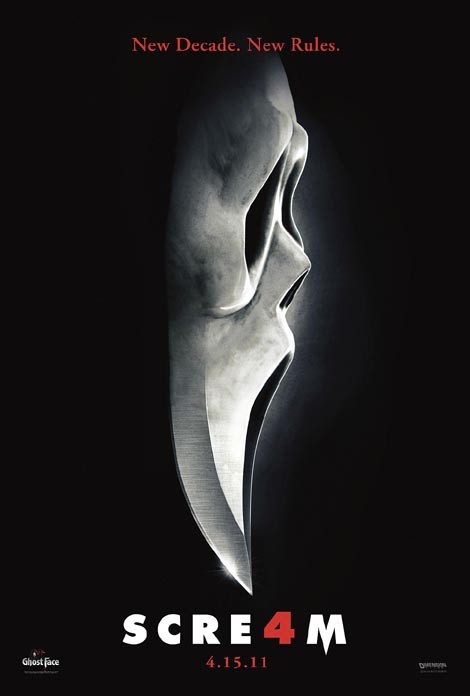 With the release of "Scream 4" on Friday, April 15, Wes Craven will finally have an answer to the question: Can the "Scream" movie franchise be resurrected as easily as the ghost faced killer?  It's been over a decade since the last installment of the "Scream" series was released and now the old gang, at least what's left of it, is back at it again.  Given most of the original cast has been killed off and the remaining ones have aged disgracefully into "Cougar Town" and Betty Ford during the significant time lapse since the last film's release, Craven has decided to the inject some new blood into the franchise.  Barely legal hotties Emma Roberts, Hayden Panettiere and Shenae Grimes, along with WB alums Kristen Bell of "Veronica Mars" and Adam Brody of "The O.C.", will join in on the campy horror fun. 
Craven and the "Scream" team have gone on the record many a time claiming that the series was intended to be a trilogy ending with "Scream 3," which was released in 2000.  Neve Campbell, famous for playing the lead "Scream" queen, Sidney Prescott, recently confessed, "I felt that we had been really lucky to make a successful trilogy, and I wasn't sure if we had anywhere to go with it."  Fast forward a decade after the cancellation of "Party of Five," "Friends," and whatever it is that David Arquette may have been famous for outside of playing Deputy Dewey and lucking into marrying Courteney Cox, and it seems that they have somehow managed to find a place to take it.  Campbell went on to explain, "Ten years later, it seems people are enthusiastic, and it's fresher now."  Hmmm.  Is it the movie's freshness or your career's staleness that has prompted this sudden change of heart?
Messing with the success and finality of the "Scream" trilogy could potentially end in disaster.  You don't see Francis Ford Coppola releasing a "Godfather IV." Sometimes it's best to follow the old showbiz adage and "leave the audience wanting more."  Since the "Scream" crew is intent on milking the franchise for every last penny, let's just hope that this addition will not tarnish its well established legacy.  "Scream" made its mark on the scary movie genre through its fusion of horror and humor, most notably carving out a set of clever rules, which if broken, lead to a character's ultimate demise.  Let's add a new rule to the fray:  Never play Russian roulette with a successful film trilogy by offering up another installment years after the fact starring an aging cast where the audience may be more frightened by the prospect of the over-the-hill star shattering her hip while attempting to run away from the cheesy masked man behind her than by the actual knife wielding killer himself.
Despite the potential for epic failure, Wes Craven and the Screamettes may just defy the odds and deliver a really good movie.  This latest installment promises more gore than ever before.  By upping the body count and casting a string of well known stars, Craven will at least be sure to secure impressive box office numbers for opening weekend.  Everyone who is anyone in young Hollywood is featured in the film.  From 'pretty little liar' Lucy Hale right down to Macaulay's baby bro, Rory Culkin, – hope he hasn't been left "Home Alone" – this movie packs in more young celebrities than the Teen Choice Awards.  There is even an Oscar winner in the cast's midst.  That's right!  "Scream 4" stars Academy Award winning actress Anna Paquin who adds a touch of prestige, if not credibility, to the film.  After starring in an enormously popular HBO vampire series, Paquin is no stranger to "(True) Blood" and will likely fit right in.  Perhaps she can club Ghostface with her Oscar statue and end the series once and for all. 
Between boasting an all star cast, increasing the carnage and showing tantalizing trailers leaving us all wondering which star will be the first to fall, this movie may just be a phenomenal success and Wes Craven will be right back at the box office with "Scream 5."  Oh wait, does that mean the franchise will die now?