Scotty McCreery Heading To College This Fall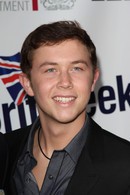 Academy of Country Music New Artist trophy winner Scotty McCreery has chosen to turn his back on fame later this year to return to his studies at his father's alma mater.

The 18-year-old American Idol winner will be a student at North Carolina State University in Raleigh after he completes a summer tour with Brad Paisley.

He tells CMT Radio, "I have decided to head down to Raleigh where my dad went to college at North Carolina State for at least for two years and maybe transfer to Nashville then. I'm excited."

McCreery reveals he was accepted at all four schools he applied to, including Paisley's alma mater, Belmont University, in Nashville, Tennessee.