Scott Weiland Says He Can't Be Fired From Stone Temple Pilots, Hires Lawyer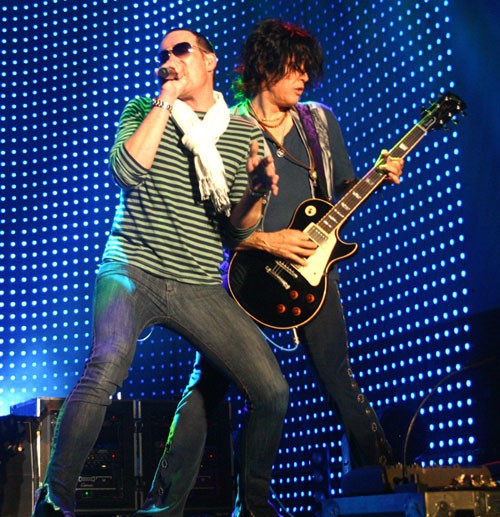 Scott Weiland insists his Stone Temple Pilots bandmates can't legally fire him. On Wednesday Dean and Rob DeLeo issued a statement confirming the singer had been "officially terminated" and offered no explanation.
In his own statement, Weiland said: "I learned of my supposed 'termination' from Stone Temple Pilots this morning by reading about it in the press. Not sure how I can be 'terminated' from a band that I founded, fronted, and co-wrote many of its biggest hits, but that's something for the lawyers to figure out."
In the late 1980s Weiland and his best friend, guitarist Corey Hicock, recruited bassist Rob DeLeo and drummer Eric Kretz to start a band. Before the band became Stone Temple Pilots, Hicock left the group and was replaced by Dean DeLeo.
Weiland and the DeLeo brothers have butted heads frequently over the years, resulting in break-ups. In 2007 they reunied just before Weiland was kicked out of the supergroup Velvet Revolver.
Over 3 million fans bought Stone Temple Pilot's debut album, "Core," and their second album, "Purple," shot to number one when it was released. After a "Purple" tour, the band took some time off, during which Weiland developed a heroin addiction. In 1995, he was arrested for possession of heroin and cocaine and was sentenced to rehab. Afterwards the group recorded their third album, "Tiny Music...Songs From the Vatican Gift Shop."
Weiland recorded a solo album in 1998, and the band reunited for "No. 4".  "Shangri-La Dee Da" was released in summer 2001. Two years later, STP issued greatest-hits album "Thank You. T."
STP took another break between 2003 and 2008. Weiland reunited with STP and embarked on a successful reunion tour in 2008. The band returned to the studio one year later, emerging in 2010 with the release of its self-titled sixth album.