Scott Steinberg on CES 2013 Trends We Can Expect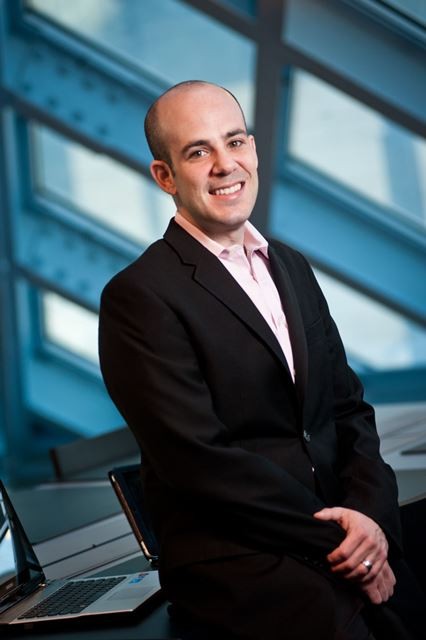 CES 2013 is already in full swing, even though the show doesn't officially open until Tuesday. Since I'm not able to attend this year – but you'll still see plenty of coverage from the show here on Starpulse throughout the week – I recently spoke with Scott Steinberg over email about trends we can expect this year.
Steinberg is a bestselling futurist and professional speaker on strategy and innovation that heads management consulting and market research firm TechSavvy Global.
With more and more larger companies preferring to do their own launch events at a time and place of their choosing, do you still see CES as an important milestone for the consumer electronics industry as it was let's say 5 or 10 years ago?
In previous years, CES represented a key battlefield for industry giants and coming out party for many of their most impressive wares. But – as evidenced by the disappearing acts of firms like Microsoft, Dell, HP and Nokia – while the show still offers one of today's most powerful platforms for galvanizing public interest around major announcements, attention has growingly shifted to alternative venues or in-house events.
Going this route allows them to alternately cut costs or command greater media attention at more targeted inflection points throughout the year that align with specific promotional programs. However, the Consumer Electronics Show is still a marquee event for the high-tech world and prime opportunity to shine the spotlight on firms in mainstream media outlets.
This year though, it's more about bigger-picture trends, leading innovations and (surprisingly) novel startups than major industry players – not necessarily an unwelcome development.
What do you expect to see at CES this year trend-wise? And are there one or two surprises you're hoping for?
Big themes will include connected everything, growing power and performance amongst mobile devices (smartphones, tablets, etc.) even as prices fall, and the battle for next-generation television between 4K and OLED sets.
You'll also see advancements in digital photography (Android-powered cameras), healthcare (going beyond heart rate monitors and fitness wristbands) and streaming media, as manufacturers make it increasingly convenient to push music, movies and more between screens.
Outside of billboard-sized, ultra-crisp TV screens and a variety of novel new tablets and phones that increasingly approximate traditional notebook PC power though, the biggest surprises are likely to come in the areas of user experience, convenience and cross-platform compatibility—this year is more about practicality than performance. Think evolutionary, not revolutionary gains in most cases.
There were a lot of reports (and tweets from tech bloggers) over the last week about how overblown Smart TVs are. Consumers just don't see to be using the apps. Do you find that's the case? Or is this the year we'll see more adoption of "TV apps"?
As stats clearly show, reams of connected content are available on today's sets, as is a wide range of options when it comes to apps – both of which customers have yet to embrace en masse, or in most cases truly comprehend the value of. A dizzying area of sets now lets you stream down video or music on-demand, access news headlines or even play games and casually communicate with friends via videoconferencing.
But the problem is that each manufacturer boasts its own app-specific interface and ecosystem, and shoppers who've been trained to passively, not interactively use sets for decades have yet to a) recognize the value and b) comprehend how to best tap into all.
The trouble: yes, we can deliver thousands of online videos to today's set – but who's watching them, how easy are they to browse, and why would you (if you're a head of household, e.g. 40 to 55 year-old mother of father of two) wish to do so?
The real challenge here isn't technical in nature—it's about communicating key benefits, delivering an idiot-proof user experience and convincing people that there's another, potentially better way to interface with their living room sets.
Apple now has PLENTY of competition in the tablet space. Is this the year we see the sub $99 one?
Let's hope so—given what companies like Amazon and Barnes & Noble have been able to achieve with their latest models, even as competition simultaneously continues to heat up within the space and hardware becomes increasingly commoditized, it's entirely plausible.
Already online and streaming consumption is growing by leaps and bounds: when we break the $99 barrier though, it's a whole new ballgame. A sub $100 tablet could greatly accelerate the pace at which already changing computing consumption habits and purchase patterns are evolving—a big win for consumers.
Something I've been fascinated with lately are Android-powered game consoles like the Ouya and now GameStick. What are the other uses for Android you expect to see at the show?
Expect it to be peppered throughout a variety of devices from digital cameras to low-cost portable media players, learning devices for children and beyond. The beauty is that it effectively adds expandable functionality to nearly any device, as you can add apps to make devices become more relevant as time passes, not less.
A huge software selection and range of potential uses doesn't hurt either—suddenly, anything's fair game to become the equivalent of a Swiss Army device. Of course, just because we can add Android to various devices doesn't mean we should: what we call "science friction" is very real, as evidenced by the practical worries (e.g. lowered battery life levels on digicams) its inclusion may introduce. Hopefully, manufacturers will let logic be their guide.
Anything else you'd like to weigh in on?
Simply the fact that, despite all the sound and fury you'll be seeing at CES, this year's show isn't really about high-end devices from major manufacturers.
Bigger themes to keep in mind, for example, would include how low-cost, high-performance and always connected mobile devices threaten to change the entire shape of home computing, consumer expectation and even the high-tech vernacular. (When was the last time you used the phrase 'software program' vs. app, or paid a premium for something when a free version was readily available instead?)
Or, for that matter, the way in which crowdfunding is rapidly producing some of the most innovative high-tech media darlings available in growing numbers – and may only get bigger with the dawn of equity-based channels in the US this year.
Moral of the story: what you see on the show floor isn't always what you get in terms of real, practical day-to-day advancements – but then again, that's part of the fun of CES, and its always-entertaining three-ring media circus.