Scott Disick Uses Hundred Dollar Bills As Toilet Paper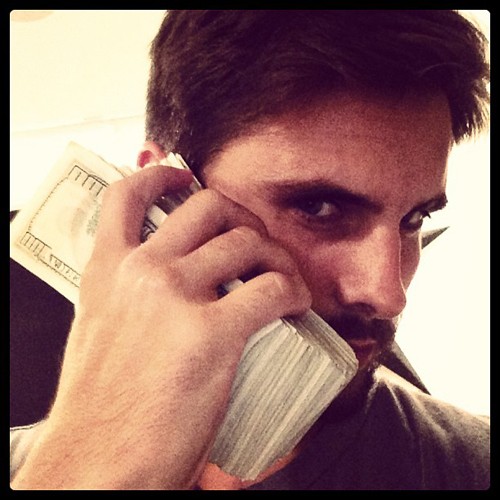 Has reality star Scott Disick flushed his career down the toilet? Kourtney Kardashian's baby daddy published an eye-popping photo on Instagram over the weekend. He showed off an image of a wad of $100 bills being used as toilet paper.

The 30-year-old star also shared photos from his collection of diamond encrusted necklaces, designer bags, watches and flashy jewelry. In one image, thousands of dollars are featured on top of a Birkin bag.
 
"Hello peasants, is that u?" he captions another photo where he holds thousands of dollars against his cheek.
The star, who calls himself Lord Disick, requires a lesson in humility. Either that, or he's enjoying being a parody of himself with his online persona.
So where does he get all this money? According to Celebrity Net Worth, he has a net worth of $12 million. In addition to starring on "Keeping Up With The Kardashians," he told Haute Living magazine earlier this year that he has made money in the nutrition business, start-up companies and investing in night clubs.
We don't know whether to be disgusted or amused by his latest antics.