Scott Disick Makes Himself Jesus In 'The Last Supper' Photo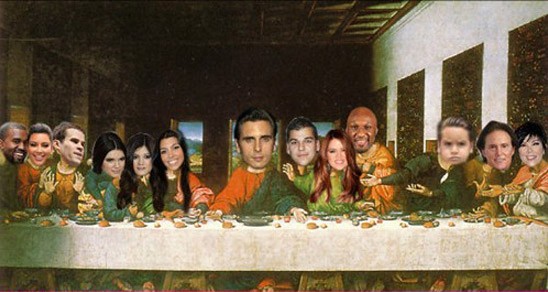 Scott Disick has edited the famous Last Supper painting by Leonardo da Vinci using the Kardashian family - and you'll never guess who took Judas' seat.
A simple replacement of the Apostles' heads, from Kanye West to Kris Jenner, appeared on Instagram thanks to Disick. Of course, the "Lord" put himself in Jesus' shoes front and center but decided that Kendall Jenner was the one who would betray him, placing her face on Judas.
We're going to assume Scott hasn't brushed up on his art history for the Judas mix-up, although he definitely knew what he was doing when he put himself on top of Jesus. More amusing, perhaps, is that Kris Humphries makes the photo as an Apostle - right next to Kim Kardashian and Kanye.
There are also theories that Disick is marginalizing those who he dislikes in the family by putting Kim, Kanye, Kris and Bruce Jenner on the edges of the table... but let's not analyze this like it's a piece of art.
Disick has since deleted the photo from his account, but as we always say: Nothing disappears from the Internet forever.
What do you think of Scott's photo?