Scott Adsit Talks With Starpulse About His Show, '30 Rock'

In the pilot episode of the Emmy Award winning
30 Rock
,
Scott Adsit's
character, Pete Hornberger, is fired. In an example of art imitating life, Scott himself was, at least at first, also being cut from the show. While Liz Lemon (
Tina Fey
) was trying to save Pete's job from Jack Donaghy (
Alec Baldwin
) on camera, Tina Fey was trying to save Scott's job in the cast from Executive Producer
Lorne Michaels
, off camera. Scott was nice enough to discusses with us that very incident along with his roots at Second City, his time on
Mr. Show
, his favorite moments on
30 Rock
and answers some reader questions.
Mike:
How did you get involved with Second City?
Scott:
Well, my parents took me down there a couple of times growing up [in the Chicago area] and I would see
George Wendt
,
Tim Kazurinsky
,
Mary Gross
and it was inspired, but I always thought of that as something out of reach. So, I went to Columbia College in Chicago where a bunch of Second City people are on staff. I took improv class at college and they said I should go to to Second City because they liked what I did.
Mike:
It's always nice when someone else tells you you're good at something and should pursue it.
Scott:
Yeah, that gave me the confidence, for sure.
Mike:
I've never seen a show adapt as quickly as
30 Rock
did. If you go back and watch the pilot it's so different than it is now. Even after four or five episodes it seemed to change quite a bit. In other words: it found it's groove very quickly.
Scott:
I haven't seen the pilot in awhile -- and I'm sure I'd be shocked how different it is -- in my head I don't remember it being
that
different.
Mike:
I liked the pilot, but I have friends that did not like the show at first -- which I found odd they didn't -- and now it's their favorite show.
Scott:
I've heard that a lot. It must have changed ... either it changed or the audience changed. I don't know if they hooked into us or we hooked into them but I'm glad we're together now.
Mike:
I've always been a big fan of
Rachel Dratch
. How difficult was that when her role on the show changed after the original [unaired] pilot?
Scott:
Well, [the part] was written for her and the powers that be wanted someone else in there so that's the way it went. It's always tough to lose a role, but, then, we kept her in the family and she was in that first season. Not an equal compensation but she was in the family so that was very nice.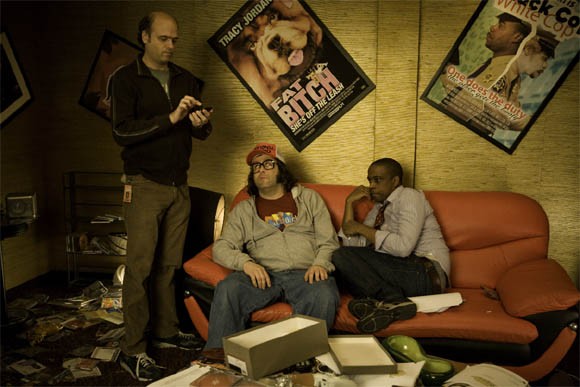 Pictured: (l-r) Scott Adsit as Pete Hornberger, Judah Friedlander as Frank Rossitano,
Keith Powell as Toofer -- NBC Photo: Jessica Miglio
Mike:
Also, in the first season, you had that weird quasi showdown because
Studio 60 on the Sunset Strip
was also on NBC. So there are now two shows on about sketch comedy -- and I'm excited because I love sketch comedy -- but I started watching
Studio 60
and it was just so serious. Not really at all like any book I had ever read about
Saturday Night Live
.
Scott:
I think
Aaron Sorkin
was trying to fix
SNL
from the outside. And saying: I think this is how the show
should
be; it
should
be this smart, it
should
be this political. And then he started writing sketches instead of writing about ... the difference between us and them is that our shows were about how stupid sketches are and his were about how important sketches are. And the people writing about how stupid sketches are, are the people that used to write sketches.
Mike:
That show did seem to have a 'save the world' mentality.
Scott:
Right. And we're writing things -- you always see snippets of sketches on our show -- about "The Fart Machine." We know how stupid sketches are.
Mike:
This reminds me of my friend who's a doctor and did her residency at Columbia here in New York and she told me that people assume that a hospial is just like the show
ER
but in reality it was exactly like
Scrubs
.
Scott:
That's exactly it. It's even silly to say we were in competition with them because
ER
was not in competition with
Scrubs
. It is interesting to find that parallel, that the
Michael Crichton
show that was supposed to be so accurate is less accurate than the comedy. Which I think is what happened between these two shows,
30 Rock
and
Studio 60
.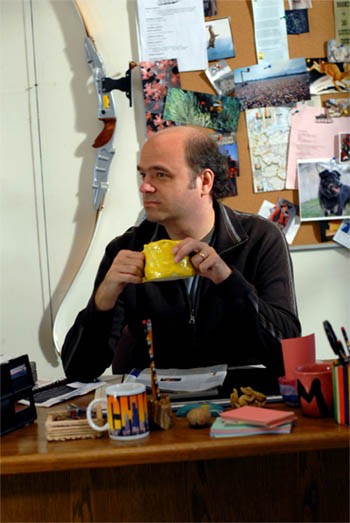 Mike:
What's your favorite
30 Rock
episode so far?
Scott:
Wow, that's rough ... I like the reunion episode, the one where Liz goes back to her high school reunion, I like that one a lot.
Mike:
Where she thought she was the nerd and in reality she was mean.
Scott:
Yeah, yeah. Right now that's the one I like the best.
Mike:
I think my favorite so far is the one titled "Tracy does Conan." You have a pretty big role in that one with the wig and your character Pete becomes the 'Leader of Men.'
Scott:
(Laughs) Right. And Dratch is the blue guy!
Mike:
OK, I have a few reader questions. Would you like to answer these?
Scott:
Sure.
Mike:
First one: Pete Hornberger was fired in the first episode. Was it always written that he would come back at the end of the episode or was that changed.
Scott:
In the first draft of the script of the pilot he was
not
fired. I think Lorne (Michaels) said we need higher stakes for Liz (Tina Fey), so let's fire Pete. Tina kind of wanted Pete to be in there to be her conscience and her confidant and, so, she kind of fought with Lorne, I think, to keep Pete on. Which kind of parallels the show as well.
Mike:
Oh, wow!
Scott:
So Liz fought for me and Tina fought for me.
Mike:
Next one: What was your experience like on
Mr. Show
?
Scott:
Well, that was fantastic. It was my first job when I got to California -- because I knew
Bob Odenkirk
and Dino Stamatopoulos -- and I walked into this thing that was already going. It was the fourth season and it was already one of my favorite shows and it's as good as
Monty Python
, I think, and I got to walk into it. It was a bit intimidating because Bob and Dave (Cross) and the writers were just so brilliant and you don't want to screw up, especially your first time out. But they were all very welcoming and fun ... and mean, in a funny way -- which I eat up. I have a list of things I've been in and most of it's pretty good; I put
Mr. Show
right at the top.
Mike:
On
30 Rock
which actor is most like their character and which is the least?
Scott:
(Laughs) I'm tempted to say
Jane Krakowski
is most like Jenna ... but I'm not going to be
that
mean. First of all: that's not true. Second of all: I think
Tracy
(Morgan) is probably the closest. Because he had a voice that is kind of a mix of various celebrities in crises in the news at the time. As soon as the writers met him and got to know him and socialized with him a bit he became very easy to write. Tina knows how to write for all of us, Tina knows how to put the words in our mouths because she knows all of us. So Tina always knew what to put in Tracy's mouth and eventually all the writers did because, sometimes, it's just what he said the day before (laughs).
Mike:
And the least?
Scott:
Maybe
Alec
(Baldwin). In the show he does play an alpha male, but I think Donaghy is afraid of confrontation where Alec simply isn't.
Mike:
Is it frustrating, at times, in an ensemble cast knowing there is only so much screen time to go around?
Scott:
Is it frustrating? I guess you notice when you're not in the script as much but the script is so good you just enjoy watching it. Initially ... but the script is so good; I feel lucky to be there. Would I like to be on the show more? Yeah, wouldn't everybody? But eventually you see everybody and everybody has their time in the sun. I'm just enjoying it.
Mike:
OK, last question: Will Pete's marriage ever not be a complete mess as depicted in his comments every third or fourth episode?
Scott:
(Laughs) Part of Pete is that he has escape fantasies about his home life. And he would be a perfect man if he didn't have this flaw of not wanting to be in his life. I don't know if that will ever clear up. I know he's based on a couple of people -- one of whom is very happily married -- but also dreams of getting in his car and driving away.

"Mike's Pulse" is a column written by transplanted Midwesterner and current New Yorker Mike Ryan. For any compliments or complaints -- preferably the former -- you may contact Mike directly at miker@starpulse.com
or submit reader questions for celebrites to Mike on
Twitter
.