Scosche Launches the RHYTHM, a Pulse and Heart Rate Monitor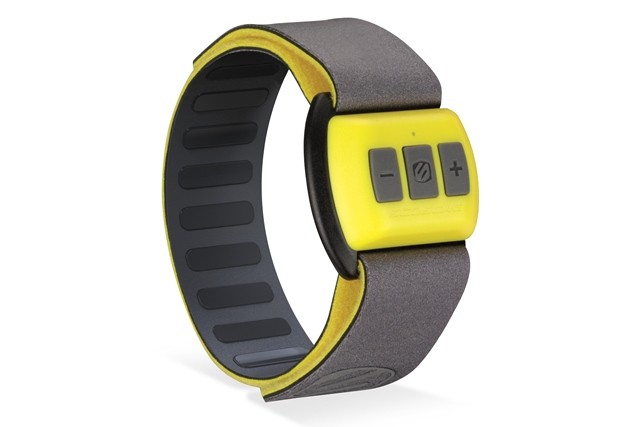 Scosche Industries launched the RHYTHM last week, a pulse and heart rate monitor and app for the iPhone, iPad and iPod Touch.
The RHYTHM is a neoprene arm-strap that allows users to "manage, track and analyze their workouts" as their pulse is measured by two alternating LEDs. A built-in accelerator also monitors "calories burned, speed, pace, route and distance." Most straps like this are worn on the chest, under your heart, and honestly, can be somewhat difficult to run with. (I've tested some before.)
Users can also control audio playback directly from the armband including play/pause, track and volume. (If you're like me, when you're running, that's kind of hard to do if your iPhone is strapped to your arm with, you know, no buttons.)
The RHYTHM syncs with your iOS devices via Bluetooth and a free app in the App Store. The rechargeable lithium ion battery is said to provide up to 6 hours of "continuous workout monitoring."
You can personalize your workout and your target training zone. Serious runners will want to specifically target specific heart rates, while newbies will just want to ensure their heart won't explode.
That workout data can then be accessed online at http://fit.scosche.com/login, where you can of course share it on Facebook and Twitter. (You can also do that within the app too.)
The Scosche RHYTHM is available now at Apple.com, Apple Retail Stores, Att.com and AT&T stores, and Scosche.com for $99.95.