Scissors For Lefty To Release Their Debut Album, 'Underhanded Romance,' June 12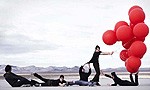 Voted "best up-and-coming indie band" by SF Weekly, San Francisco's
Scissors for Lefty
has been setting off radars in both the US and UK, inciting NME to boast: "ambitious, sarcastic sophisto-pop; quirky, promising, and quite possible awesome." Signed to Rough Trade Records outside of North America (
Arcade Fire
, the
Decemberists
,
Belle & Sebastian
), the group has performed alongside bands such as
The Arctic Monkeys
,
French Kicks
,
Paul Weller
, Dirty Pretty Things,
Grandaddy
,
Metric
,
Blonde Redhead
, Oh No! Oh My!, and
Dios Malos
, among many others. With each exuberant show, Scissors for Lefty steals the hearts of girls and leaves guys envious, with more than a few of each wishing they were ambidextrous.
Now at long last, Scissors For Lefty are set to releases their new full-length,
Underhanded Romance
, through Eenie Meenie Records in the U.S.
High-energy rhythms, tongue-in-cheek sentiments, slick melodies and infectious charisma collide with great result on the group's Charles Goodan-produced/engineered (
Beck
,
Santana
, the
Dust Brothers
) and Mark Needham-mixed (
The Killers
,
Fleetwood Mac
,
Chris Isaak
) label debut.
Underhanded Romance
is full of swaggering jams bringing to mind contemporaries
Hot Hot Heat
and
Franz Ferdinand
and at moments reminiscent of Pulp. Catchy without being redundant, sexy without being self-conscious, and just coy enough without being cocky, they walk the line between dance music that rocks and rock music you can dance to.
-
Check out "Lay Down Your Weapons"
(Streaming audio and/or video links may expire without notice)