Sci-Fi Vet Adrian Holmes Hits The Big Screen In 'Elysium'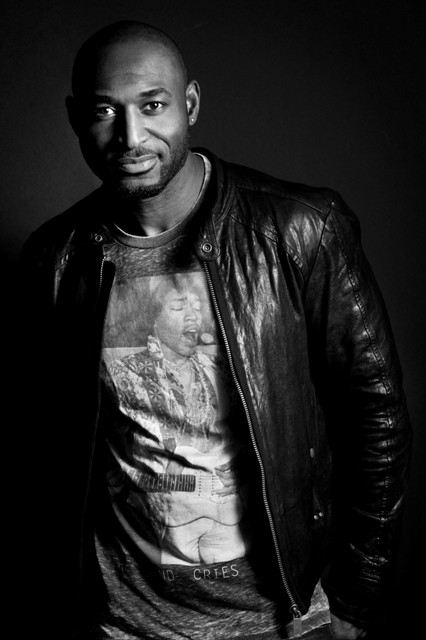 In the new big-budget sci-fi adventure Elysium, Matt Damon plays an ex-con determined to reach the titular space station where Earth's wealthy citizens live in peace while the planet below falls into ruin. Yet he wouldn't be able to fight the good fight without some help, and that's where veteran character actor Adrian Holmes comes in. Adrian plays Manuel, who assists Damon's Max in his quest to take on Elysium. BFTV recently connected with Adrian to find out about the making of the movie, his lengthy genre credibility, and how you follow a blockbuster movie.
"Manuel is a gangster," he said, describing his Elysium character. "He's the brawn, the muscle of the group. He's a weapons expert so he's the one who hooks Nax up with all this incredible artillery that you see him with in the film. [He's] very loyal to his group, to his people. [He was] a fun character to play."
"There's a lot of cool stuff in the film that you can really enjoy," Adrian continued, revealing that he really gave the film's action sequences his all. "There's this one fight scene that we shot, it was very intense. We started shooting it on a Monday and I got food poisoning on [the] Friday [before]," he explained. "I had to get hooked up to an IV so that I could get the energy I needed to shoot the scene. That was quite an experience for me!"
Adrian knows quite a lot about science fiction, having appeared in such big genre names as Stargate SG-1, Battlestar Galactica and its spinoff Battlestar Galactica: Blood & Chrome, Supernatural, Fringe and Smallville. "It was on purpose," he quipped. "No, I'm kidding. It just happened. I live in Vancouver; Vancouver's a very sci-fi city. I just go out and audition for whatever I can."
Sci-fi or not, what are some of his favorite roles to date? His choices might surprise you. "I did a movie called Red Riding Hood a couple years ago, with Gary Oldman and Amanda Seyfried. I'm really proud of that," he said. "Working opposite Gary was a dream in itself, and I liked that character.
"I also played Basqat in Smallville, which was a real cool experience. I was a Kandorian warrior from Krypton. I got to fly and do all the stuff that Superman could do. I was General Zod's right hand man - and I'm a huge, huge Superman fan. That was a dream come true, for me to be in the whole Superman world. I'm doing Arrow at the moment. I play Lt. Pike. and season two starts in November."
Adrian also has the role of Agent Warren in the sci-fi series Continuum. And if you want to see even more of his work, he's also going to be the lead in the English adaptation of the French police drama 19-2. "I play a beat cop who feels the responsibility for shooting his partner. it's not sci-fi, but it's got a lot of depth, a lot of layers."
But he's not done in the sci-fi genre, either. He'll also star in the movie Debug, alongside Jason Momoa, Jeananne Goossen and Kate Hewitt. The flick sees six computer hackers take on an artificial intelligence while aboard a space freighter. It's due to be released in 2014.
When he's not working, Adrian is supporting the Rare Disease Foundation, which is exactly what it sounds like: a charitable organization helping those who suffer from rare and unique illnesses. The Foundation's next big event is the 3rd Annual Lux Jewels Diamond Race, which will be held in Vancouver on September 14.
In the vein of The Amazing Race, participants compete in terms to finish a number of tasks and win a diamond - all while helping a good cause. You can find more information on the Diamond Race by visiting the event's official website.
No matter what the type of project or size of the role, Adrian is passionate about the craft of acting. "For me, just working in this medium is a blessing, honestly," he confided. "It's a tough job. There's so much competition. For me, every day I just give thanks to be able to say I'm employed.
"To be working on a movie like Elysium, which is such a huge epic film, is just icing on the cake. I was pinching myself every day. Walking away from this was just the greatest thing. This is the bar right now with this film, and if I can be fortunate to have this experience again I'll be very grateful."
"I still don't feel like a professional actor," he admitted. "I'm learning every day with every project. And that's what I love about this business because it's always changing, it's always different. It's been a really, really cool journey."
Elysium is in theaters now. You can also keep up with Adrian by following him on Twitter (@AdrianHolmes).
(c)2013 Brittany Frederick. Appears at Starpulse with permission. All rights reserved. No reproduction permitted. Visit my official website and follow me on Twitter at @tvbrittanyf.