'Sci-Fi Crimes' Can Be a Good Thing Too: A Conversation with Pete Loeffler from Chevelle

Throughout their near 15 year existence,
Chevelle
has yet to release a bad album. After streeting their fifth, and latest, '
Sci-Fi Crimes
,' why would you think they would start now? There are those that thought once bassist, and brother, Joe Loeffler, left the groups fold, they would see a sudden decline, but just the opposite is true. Since Joe departed, Chevelle has released back-to-back amazing records in 'Vena Sera' and now 'Sci-Fi Crimes.'
'Sci-Fi Crimes' finds the Chicago band at the best they have been in years. The boys brought in Brian Virtue to handle the producing duties, and he far succeeded expectations. It is an album full of potential singles, a record whose tracks should find a home at modern rock radio for some time. Lead Single 'Jars' is leading the way, and with no concrete word on the next, the potential is almost limitless. Is 'Sci-Fi Crimes' the bands best work to date? Let the debate begin. It surely will be one that could rage on for some time.
During some downtime while on the road, lead singer and guitarist Pete Loeffler took the time to sit down with me in order to get the story behind everything 'Sci-Fi Crimes,' including stories behind some of the albums strongest tracks, the albums provocative title as well as where the band goes from here.
Starpulse: Let's start at the beginning. Can you tell me about the recording process of 'Sci-Fi' Crimes?
Pete Loeffler:
We tried to go for more of a realistic rock band sound on it in terms of tuning and vocals. We tried to steer clear of a lot of effects and tuning and stuff like that. We wanted it to sound real, and raw. We used really old vintage amps, and were going to a really garage sound. I thought that we had been getting too slick in terms of production lately, so we went for it. It's not totally off the wall; it's just a little rawer than we are used to.
How did you settle on Brian Virtue as your producer for this record?
Brian worked with
30 Seconds to Mars
, a band that were close with and they actually had processed and really perfect sounding records, so it's a cool thing that Brian is really universal. He engineered the record as well. He basically just listens to the band he is working and really does he all that he can to give that band what they want. And that's really why we went with him.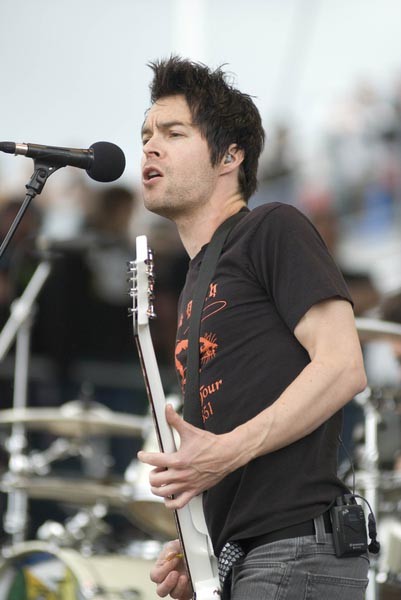 Image © Adam Bielawski / PR Photos
How did you guys settle on such an interesting album title like 'Sci-Fi Crimes?'
It's just summing up a few of the songs. The whole isn't about all of those situations like aliens and UFO's and things like that, but a few of them were. Our bassist Dean [Bernardini] made this really amazing painting that ended up becoming the albums artwork. We loved it and made it a title that would really culminate everything all together. We liked the title because it's different.
Does the album on the whole have a central or underlying theme to it?
Just that whole sci-fi vibe, really. There are things we have done on this album that we have done, like there are a couple of solos, which is trying to get more of the rock vibe into things. It's not all about the heaviness of the album; it's not all about the screaming, it's trying to just keep the melody there. If there is a scream or a heavy part here and there we wanted to make sure that we used it properly and wanted to make everything wasn't going to be about that. The album has ebb and flow, an up and a down, and that's really what we were going for.
What were some of the inspirations lyrically that caused you to write this record?
There were a few things. 'Roswell's Spell' is about our trip to Australia and a guy we met there that really got us thinking. 'Sleep Apnea' is really talking about our lack of sleep we get out on the road, written pretty tongue and cheek. It talks about a couple of different things and touches on a couple of topics in one song. It's about the weariness and where you can find yourself at. It's not constant but at certain times you're exhausted. It's what we have always done, written about experiences that we have had. 'Jars' is a funny way to talk about the environment and things like that. 'Highland's Apparition' is about a house I used to live in that was haunted where strange things would happen. There are lots of place to dig in and figure out what I'm saying.
How did you guys settle on choosing 'Jars' as the lead single?
We didn't actually, it was our label. They thought that they could do some serious damage with that song at radio and we let them do it. They really delivered and it is going really well.
Do you have any plans on what the next single will be?
There has been talk but you really never know. Everything can change. There are a handful of songs that we have all been thinking about and that we are for, but you really never know.
Tell me what you think Chevelle fans can expect from this record?
Fans can expect a lot of the same of what we have done in the past, just a lot better. That's the short answer.
Have you guys given any thought to you including your music in the Rock Band video game?
Yeah, they tried to use 'The Red' but for some reason it didn't go through. I don't really know what happened. We are for that but at the same time I have a nephew that plays it. I went over to his house a couple of weeks ago and he was playing it. I was trying to get him to play his real guitar, so that it would be a little more beneficial to him. Yeah, it a video game, but games are there for a reason. You can play them and have fun.
Now how does that process work? Do they approach you, or do you seek them out?
We have a new song that's in the new
Tony Hawk
skateboard game that's coming out and that was unique situation where someone came to us at a party and asked us about it. It all depends on the game as to how that all works. Someone was creating the game and wanted a specific song to be in it and that's how that worked.
Tell me what the rest of 2009 will bring Chevelle?
We are going to be doing some press then hit the road again. We are going to do a headline run for about a month then we are going to see what happens after that. We will probably tour again. You have to tour, and that's what we do best.
Check out more on Chevelle at www.chevelleinc.com.
Story by
Brian Campbell
Starpulse contributing writer