SCI FI Channel Acquires 'Star Trek: Enterprise,' 'Twlight Zone' & Other Series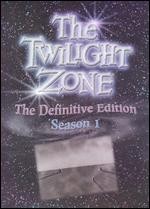 The SCI FI channel has acquired the rights to multiple made-for-television movies and series from CBS, including
Star Trek: Enterprise
, the Star Trek prequel series starring
Scott Bakula
and
Jolene Blalock
. The deal also includes exclusive cable rights to the classic series
The Twilight Zone
; the series "Tales from the Darkside"; several
Stephen King
miniseries; made-for-TV movies; and series such as "Haunted,"
Jake 2.0
and last fall's "Threshold."
"Enterprise," which ran for four seasons between 2001-2005 on UPN, will premiere in early fall on the SCI FI Channel. The popular anthology series, "The Twilight Zone," created by
Rod Serling
, was renewed and will continue its exclusive run on the channel. "Tales from the Darkside," the syndicated horror with a twist series, will premiere later this year.
Three highly acclaimed miniseries, including two from Stephen King, will also premiere exclusively this fall. "Invaders" stars Scott Bakula as a man who discovers an alien conspiracy and attempts to foil their plot by warning the earth of imminent danger. "The Langoliers," originally one of four short stories in the Stephen King novel "Four Past Midnight," stars
Dean Stockwell
and
Patricia Wettig
as passengers on a cross-country flight who awake to find that they and a small group of others are the only people left on earth. Based on the novel by Stephen King, "The Stand," starring
Gary Sinise
and
Molly Ringwald
, takes place in a world decimated by a man-made plague, where a battle of epic proportions ensues between the survivors.
The deal also includes five made-for-television movies. "Inferno;" "Lost in the Bermuda Triangle" stars
Tom Verica
and Charlotte d'Amboise; "Primal Force" features
Ron Perlman
as a rescuer trying to reach plane crash victims trapped on an island with mutant baboons; "Sightings: Heartland Ghost," with
Beau Bridges
and
Nia Long
, revolves around the crew of a reality TV show about the paranormal, who visit a small Kansas town to investigate a house that may be haunted; and "Trilogy of Terror II," which begins where the first trilogy left off, featuring three spooky stories and starring
Lysette Anthony
.
Additionally, eight television series will premiere exclusively during the 2006-07 season.
• "Haunted" follows
Matthew Fox
as a detective haunted by lost souls from beyond the grave.
• "Threshold" stars
Carla Gugino
as part of a team of experts who are assembled when the U.S. Navy discovers an extraterrestrial craft has landed in the Atlantic Ocean.
• Suspense thriller "Wolf Lake," set in the Pacific Northwest, explores what happens when werewolves overtake a small Seattle suburb. It stars
Sharon Lawrence
and
Scott Bairstow
.
•
Christopher Gorham
is Jake 2.0, a computer technician who is involved in a freak accident and begins to operate at an atomic level, possessing superhuman strength, lightning-fast speed, heightened hearing, magnified vision and the ability to communicate telepathically with computers.
• "Kindred, the Embraced" is a series based on the White Wolf role-playing game, Vampire: the Masquerade. Julian Luna, played by
C. Thomas Howell
, the undead Prince of the City, leads the Vampire Clans as he falls in love with Caitlin, a human reporter, played by
Kelly Rutherford
.
•
Fabrizio Filippo
stars in "Level 9," which follows a top-secret government unit that serves as the nation's last-and-only line of defense against high-tech criminal plots.
• Detectives Nick O'Malley (Michael Landes) and Kate Benson (
Alexondra Lee
) work in Special Unit 2, a secret precinct of the Chicago Police Department whose sole charge is to protect the city's citizens from Links, a malicious paranormal species that is the missing link between man and beast.
• "All Souls" explores the supernatural side of a 300-year-old South Boston hospital, starring
Grayson McCouch
,
Reiko Aylesworth
and
Serena Scott Thomas
.