Scarlett Johansson Talks About Her Penchant For Bad Boys & More In Cosmopolitan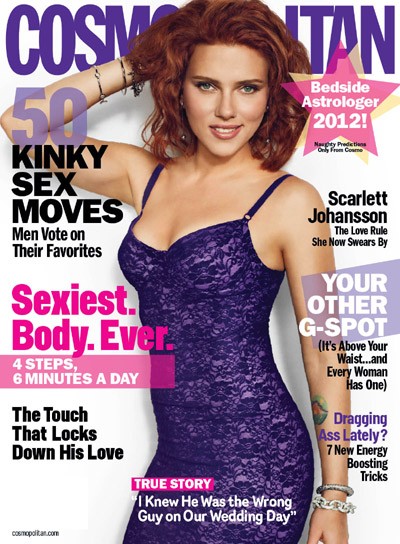 Scarlett Johansson is the January 2012 Cosmo Cover Girl. The actress, who split from husband Ryan Reynolds in December 2010, has had an eventful year.
This fall nude photos she sent to her ex were leaked online. The actress was devastated when the saucy shots surfaced, so she asked officers at the Federal Bureau of Investigation (FBI) to investigate the leak.
She also made waves for dating much older, and well-known bad boy, Sean Penn. She told Cosmo, "I'm attracted to the quality of being adventurous and perhaps a bit mischievous and also questioning authority and being proactive. If that makes up a quintessential bad boy, then whatever. I'm not at all attracted to meanness or bullying, but I do think conviction is attractive. I mean, really, who doesn't?"
In the January issue she opens up about:
-What she's learned about marriage.
-The reason she's rocking a sexy red hair hue.
-Why she's more confident at 27 than she was at 19.
-Hollywood rumors.
She also stars in the film "We Bought A Zoo" (Dec. 23) about a widower (Matt Damon) who purchases a zoo in order to bring his family back together.
The January issue of Cosmopolitan hits newsstands Tuesday, December 6.