Scarlett Johansson Opens Up About Ryan Reynolds Divorce & Dating Sean Penn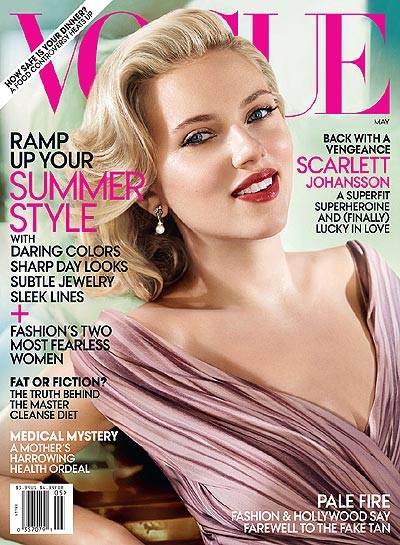 Scarlett Johansson lets her guard down in a new interview in the May issue of Vogue magazine. The star of the upcoming The Avengers got up close and personal with the magazine, revealing details of her split with ex-husand Ryan Reynolds and her rebound relationship with Sean Penn - 24 years her senior.

Despite a short fling with Penn and her current relationship with advertising director Nate Naylor, she's still recovering from her split with Reynolds.

"I don't feel on the other side of it (divorce) completely, but it gets better," she tells Vogue. "It's still there. More than anything, it's just that not having your buddy around all the time is weird. There's no rule book. I think it's just time."

Scarlett also confirms her brief romance with Penn; telling the magazine, "We spent time together, yeah. I never put a title on it, really, but we were seeing each other... He's a remarkable person."

But despite her "devastating" divorce and subsequent rebound, she's found a happy place.

"Yeah, everything's been really great right now," Johansson says. "It's been a good time. I've had peace. Relative peace. I just want to work on things that are really hard, and when I'm not working on things that are really hard, I want to hang out with people I like to be with, and that's it."

Check out more of Scarlett and read her full interview at Vogue.com or pick up the May issue, on newsstands April 24th.