Scarlett Johansson Looks Great In Her Tight Fitting Costume For 'Iron Man 2'

Scarlett Johansson
plays the superheroine Black Widow, a new addition to the
Iron Man
cast for next summer's sequel. She had actually become a redhead on her own, and it just happened to fit the part.
"Part of that was me wanting to experiment with my hair color and the other part of that was me kind of hoping that [director] Jon [Favrea] would like the fact that I had experimented," Johansson said.
More concerning was the Lycra cat suit that Black Widow wears. "I have to say, you put that much work into something and you put it on, and you better be happy with it," Johansson continued. "It was crazy to see it for the first time, everything all zipped up and all the weapons in there, bracelets on, and the whole look. It was pretty sweet I have to say. Certainly walking on set, because a lot of the people that worked on the film were fans of the comic and of course they knew the Black Widow, they were all super excited to see the Black Widow. When they, when everybody in the crew were like, 'That looks awesome.' I knew like 'Okay.'
It's no surprise that Scarlett Johansson looks good in a tight fighting superheroine costume, but how did it feel? "Warm," she joked. "Warm and stretchy."
The Johansson house is in full-on superhero world right now, with hubby
Ryan Reynolds
cast in Green Lantern and still working on
Deadpool
. "I have quite a few stacks of comic books. We're in completely different universes over there but it's kind of something that I'm certainly delving into for the first time. There is quite a stack."
Iron Man 2 opens May 7.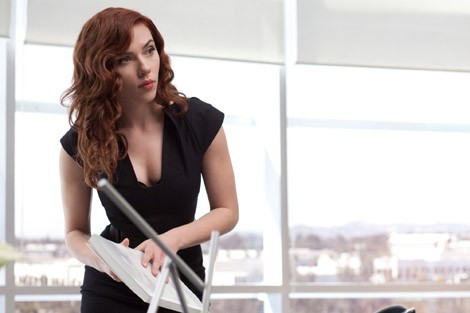 Image © Paramount Pictures
Click the pics for Iron Man 2's gallery:
Story/Interview by
Fred Topel
Starpulse contributing writer
(Starpulse in Hollywood)
: Every week, Hollywood's biggest stars are meeting in the hot spots and Starpulse is there.