Scarlett Johansson Lifts Her Shirt To Show Off New Tattoo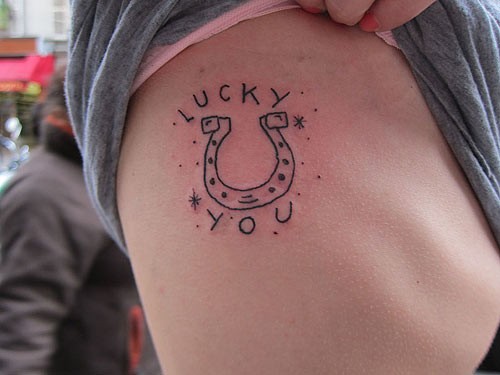 Scarlett Johansson has added some artwork to her bodily canvas, this time a simple horseshoe tattoo with the cliche 'Lucky You' surrounded by a bunch of stars

The Avengers star recently got inked while in Paris, where she met up with graffiti & tattoo artist Fuzi Uvtpk (don't ask us how to pronounce that last name), after checking out an exhibit of his work at Le Salon last week.

After getting the new ink, ScarJo hit the streets of Paris where she lifted her shirt to show the new work and the reddened skin around it. She also posed with the artist in his studio.

Fuzi's work is done in his own "ignorant style," which, according to his official site, is "an ironic twist and self-confident assertion" that he began in the mid 90s after discovering the book "Subway Art"; about New York City subway graffiti.

The fresh ink is Scarlett's second this year -- in April she was spotted with a tattooed bracelet that included a pendant with the saying, "I [heart] NY." She also boasts a pair of intertwined circles with the letter "A" in one of them on her ankle; and a colorful sunset on her left forearm.

Scarlett won't tell what any of her tattoos mean, preferring for that information to remain private.

One thing's for sure though, with news of Scarlett's new inking getting around, it's only a matter of time before tattoo-obsessed stars like Rihanna and Justin Bieber are showing up at Fuzi's studio.