Scarlett Johansson: I've Never Met A Man Who Likes Anything Around His Neck Other Than My Hands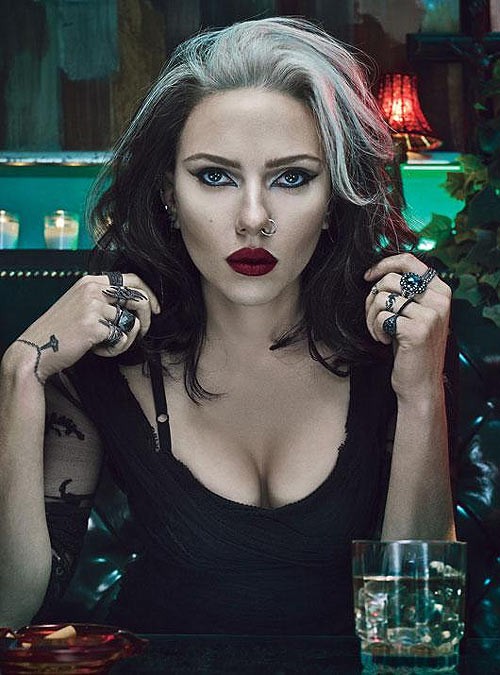 Scarlett Johansson has traded her signature blonde locks for a black-& grey goth 'do on the cover of W Magazine's 40th Anniversary issue, which celebrates "four decades of fashion, scandals, art & beautiful people."

The Avengers star channels the 1990s for the issue, appearing with deep red lipstick, heavy eye-makeup and a nose ring.

The new issue features four covers (see them all at Wmagazine.com) celebrating the past four decades and features Keira Knightley (2000s), Mia Wasikowska (1980s) and Rooney Mara (1970s).

ScarJo talks about the things she remembers from the decade with editor Lynn Hirschberg, revealing that Jurassic Park is something she thought would actually happen.

"Jurassic Park was a mind-blowing experience. I wasn't really afraid of the dinosaurs," she says. "I was more afraid of something like a clown coming to eat your brain or Chucky, a little doll that was going to take a knife to your eyeballs.

"But I actually believed Jurassic Park. I remember saying, 'This is going to happen, you guys'."

And the newly single star (she broke up with boyfriend Nate Naylor just last week) says her favorite person from the decade was Chris Farley.

"...I thought he was hilarious," she says. "Growing up, I used to watch Saturday Night Live just to see him. He threw his whole body into the parts he played: He'd become red and sweaty and frantic. When he died, it was really significant for me."

Scarlett also has a sexy bit of advice for men: don't wear turtlenecks.

"Men don't like turtlenecks," she says. "I've never met a man who likes anything around his neck other than my hands."
See more in the 40th Anniversary Issue of W Magazine.