Scarlett Johansson Hacker Enters Guilty Plea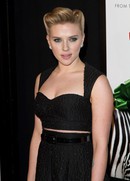 A Florida man accused of hacking into Scarlett Johansson and Mila Kunis' email accounts has been remanded in custody after pleading guilty to nine felony charges.

Christopher Chaney, 35, was arrested in October and charged with over 20 crimes relating to allegations he had illegally accessed a number of celebrities' accounts, which resulted in the leak of Johansson's nude photos.

He initially denied the claims, but recently struck a deal with prosecutors and confessed to nine felonies, including identity theft, wiretapping, and unauthorized access and damage to a protected computer, during a court hearing on Monday.

He was placed in handcuffs immediately after entering his plea and is due to be sentenced in July.

Chaney faces up to 60 years in prison for the charges.