Scarlett Johansson Gets Mixed Reviews For Lacking Broadway Revival Of 'Cat On A Hot Tin Roof'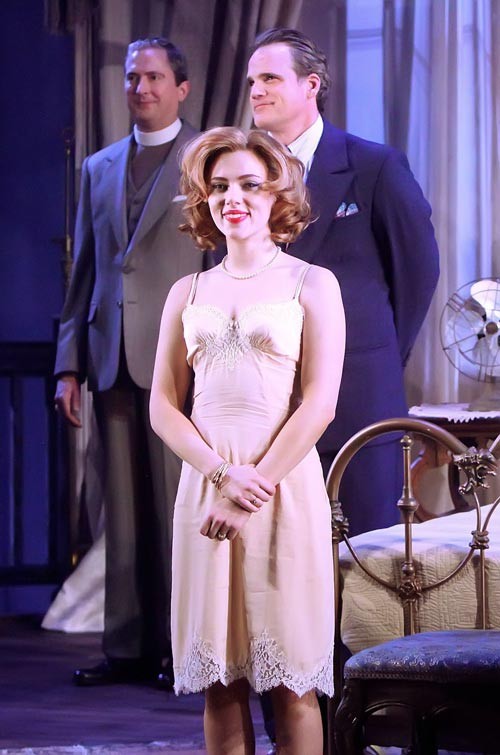 Scarlett Johansson returned to Broadway Thursday night for the premiere of the sixth revival of playwright Tennessee Williams' classic "Cat On A Hot Tin Roof".

Johansson's performance, along with the whole of the show, has been met with mixed reviews after the play's opening night.

The Avengers star plays the role of Maggie, aka 'Maggie the cat', in the production and has been compared to Kathleen Turner, who was nominated for a Tony award when she played Maggie on Broadway in 1990.

"Johansson didn't pick the easiest vehicle for her second Broadway appearance... While her performance often lacks nuance and starts off too shouty, the star eventually gains in confidence," writes the New York Post's Elisabeth Vincentelli. "Spitting out Williams' florid lines in a low-throated growl reminiscent of the young Kathleen Turner, Johansson successfully brings to the fore Maggie's rough edges."

Ben Brantley of the New York Times writes, "Ms. Johansson confirms her promise as a stage actress of imposing presence and adventurous intelligence. Quibble all you want about the particulars of her performance. She obviously has a strong sense of what she wants to do here and the convictions to follow it through."

Brantley, however, called her performance a "lifeline" for the rest of the show itself.

But with the positive came several negative reviews.

"In her much-anticipated star turn as one of the theater's juiciest women, [Johansson] works so admirably to avoid Maggie-the-Cat cliches that the actress and the character almost disappear in sensitive, levelheaded, ladylike restraint," Newsday's review read; while the New York Daily News said that ScarJo's "raspy" voice has "the musicality of a foghorn."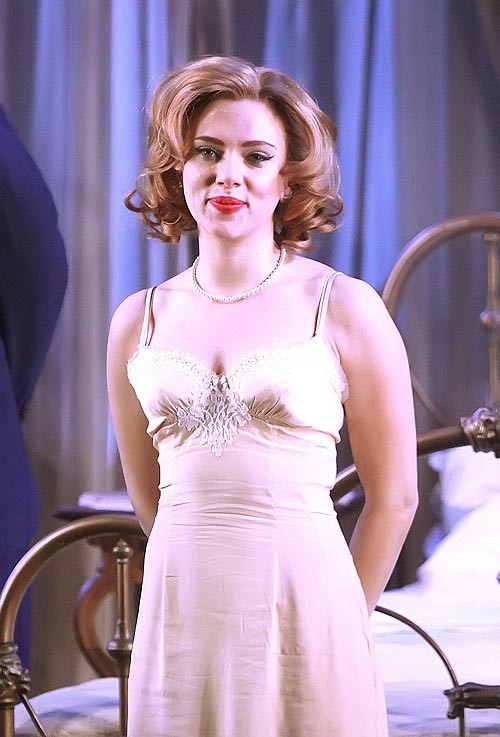 "Johansson has made some bold choices in the demanding role, aging herself with a coarsened, growling voice, knowing humor and a refusal to soften the character's abrasive edge," writes The Hollywood Reporter. "There's no kitten in her cat. But keeping Maggie's vulnerability hidden until the final act seems a mistake. Without the underlying wounds she's just a shrew."

While Mark Kennedy of the Associated Press praised Scarlett, he called the entire production lacking.

"Scarlett Johansson turns in a nifty turn as Maggie, finding humor and barely hidden desperation in her role as frustrated wife and mother-to-be. She's less overtly sexy than other actresses who have played the ironic role, making her Maggie more cerebral, angry and proud," he says.

In addition to fireworks, "They also added cap guns, the sound of crickets, musical crescendos, ringing telephones, chiming clocks, thunder crashes and a mind-boggling nine songs, some sung while the action is happening." he added; saying that director Rob Ashford's noisy sound effects took away from many of the performances.

"The ruckus distracts from some fine performances and a play that deserves—as must of the men in it also wish—silence sometimes," he adds.

Entertainment Weekly also criticized director/choreographer Ashford's production: "Ashford tilts his cast toward an admirable naturalism, avoiding the sitcommy approach that some productions take to a play stocked with some decidedly broad characters. For a Tony-winning choreographer, though, he blocks scenes in a somewhat awkward way."

The show's debut was held at the Richard Rodgers Theater in Manhattan, where several stars, including Daniel Craig and wife Rachel Weisz, Nick Jonas and Victor Garber, were in attendance.

Johansson won a Tony award in 2010 for her Broadway debut in Arthur Miller's "View From the Bridge.