Scarlett Johansson & Emmy Rossum Show Off Their Ruby Red Lips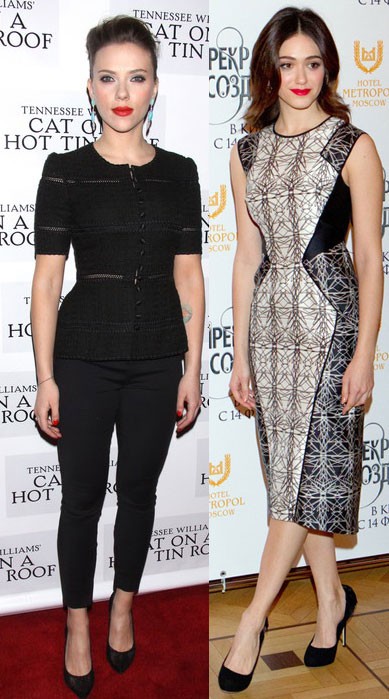 What is black and white and red all over? Scarlett Johansson and Emmy Rossum pimping their latest projects in New York City and Moscow.
We spotted ScarJo at the opening night after party for "Cat On A Hot Tin Roof" held at the Lighthouse at Chelsea Piers in New York City on Thursday. The actress looked slim and trim in tight black pants and a fitted black blouse.
She accentuated her look with bright red lipstick and turquoise drop earrings. The actress has gotten mixed reviews about her Broadway show. She plays the role of Maggie, a.k.a. "Maggie the Cat," in the production.
Rossum looked equally as lovely at the Russian film premiere of "Beautiful Creatures" in Moscow on Saturday. She wore a black and white patterned dress, black pumps similar to Johansson's, and painted her lips ruby red.
Rossum's upcoming film centers on a young man who is drawn to a mysterious young girl and her crypt of her family secrets. It hits theaters on Valentine's Day.
See more photos of Scarlett and Emmy...