Scarlett Johansson Duets With Dean Martin For Christmas Album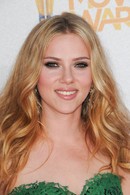 Scarlett Johansson has landed her dream duet with legendary singer Dean Martin - she's set to lend her voice to an upcoming Christmas album featuring the late crooner's classic tunes.

The Lost in Translation star will 'team up' with the Rat Pack icon for a remake of the festive classic I'll Be Home for Christmas.

She tells gossip blogger PerezHilton.com, "Growing up in New York City, Christmas was never Christmas without Dino. Recording in the studio with Mr. Martin in my headphones felt as though he were standing right next to me, crooning with that mischievous gleam in his eye. When I was asked to sing on this album, it was literally a childhood dream come true."

Johansson's song will be featured on Martin's My Kind of Christmas, which will hit stores on September 20th.

And it's not the only classic the Iron Man 2 star has reworked recently - the blonde beauty has also recorded a new version of Serge Gainsbourg's Bonnie & Clyde with the French legend's son Lulu.
Gainsbourg originally recorded the track in 1968 with Brigitte Bardot.