Scarlett Johansson Didn't Wear Panties Underneath Her 'Avengers' Black Widow Costume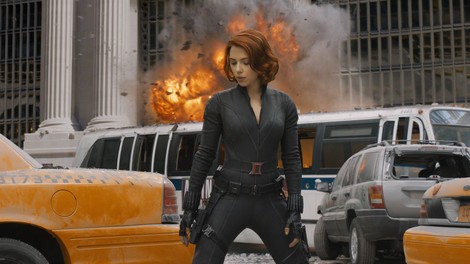 Scarlett Johansson went commando while filming her latest movie - she dressed without underwear to stay cool in her tight costume while working on "The Avengers."

Scarlett reprises her role as the Black Widow in the highly anticipated film. Also returning are comic book characters Iron Man, Thor and Captain America. The actress admits she and her co-stars were extremely uncomfortable because their restrictive superhero outfits made them sweat.

She told Collider.com, "It's like 800 degrees in my costume... and it's a unitard, and I have nothing underneath it! I'd say everybody has their own uncomfortable costume situation. We all have our various things that we have to do to get comfortable."

"Everybody looks so uncomfortable until the cameras are rolling and then we all look slick. Then 'Cut!' and we're all like, 'Arrrgh... God, this thing, get it off me, it's awful!'"
"The Amazing Spider-Man" star Andrew Garfield also recently confessed that he's completely naked underneath his skintight costume.