Scarlett Johansson Cleverly Hides Rumored Baby Bump At 'Captain America' Premiere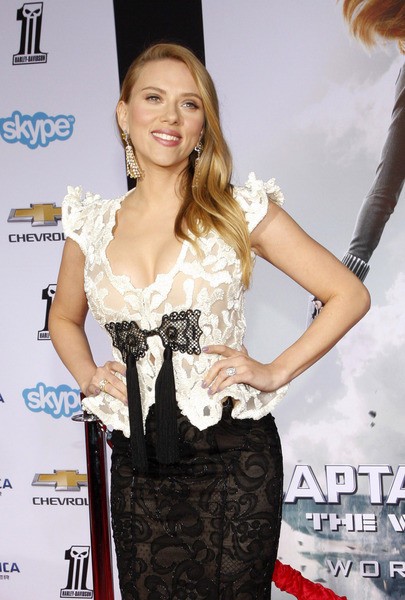 Scarlett Johanson showed up on the red carpet for the "Captain America: Winter Soldier" premiere in a black and white lace dress with a couple of tassels hanging in front of her stomach.
The 29-year-old is rumored to be expecting her first child with fiance Romain Dauriac, but any signs of a baby bump were cleverly concealed by her dress. A source recently told UsMagazine.com that she's four months along.
Meanwhile, Marvel Studios President of Production Kevin Feige pretty much confirmed that the actress is pregnant, telling Collider.com:  "Well my first reaction was I was very happy for her and very excited for her. My second reaction was we've got to move some pieces on the chess board around schedule-wise. But we didn't change the script at all, which is sort of the most important things for us in terms of the storyline."
The "Avengers" sequel will hit theaters in 2015.
As for wedding plans, Johannson said she's not rushing to tie the knot. She told Access Hollywood: "I don't plan anything. I'm terrible at planning. Yeah, I'm not gonna plan anything - I like to wing it!"
Check out more photos of Scarlett...