Scarlett Johansson Auctioned Off To Rolling Stones Guitarist Ron Wood For $20,000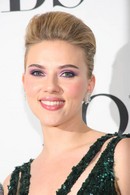 Rocker Ron Wood dug deep at a charity auction and paid a whopping $20,000 for a dinner date with Hollywood actress Scarlett Johansson.

The Rolling Stones star was among the guests at the Too Many Women gala, in aid of Breakthrough Breast Cancer, in London on Thursday night.

Organizers staged an auction during the event, and Wood became involved in a bidding war with businessman David Tang for the Johansson lot - until they both agreed to pay $20,000 for the prize and split the dinner.

A guest tells London's Evening Standard newspaper, "When both bids reached £13,000, it looked as though it would end in stalemate. So the two agreed to put their bids together and pay £26,000 to share Scarlett."

Wood also raised an additional $32,000 by donating a guitar lesson as a prize, while other lots included a cookery lesson from Gwyneth Paltrow and a walk-on role in Guy Ritchie's next film.