'Scarface' Set For Third Big Screen Remake?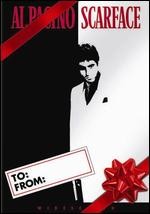 Al Pacino's legendary movie Scarface is to be given a big screen make-over for a new generation of movie fans.

The popular 1983 crime drama, which starred Pacino as Cuban gangster Tony Montana, was a remake of Howard Hawks' 1932 film starring Paul Muni as an Italian who takes over the city of Chicago, Illinois.

Now movie bosses are planning to revive the format for a third time, according to Deadline.com.

The website reports executives at Universal Pictures are planning a new version of Scarface with producer Martin Bregman, who worked on the Pacino film, with a new character and setting.