'Scandal' Star Tony Goldwyn Gets 'Divergent'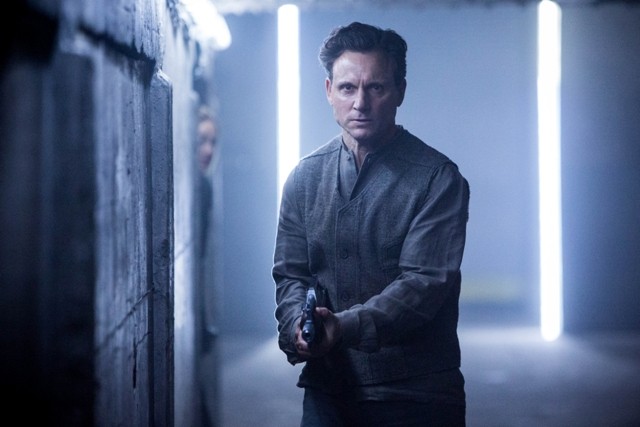 If there were a Mount Rushmore of actors, Tony Goldwyn would be on it.
The impressively talented actor-director is not only hitting home runs this season as President Fitzgerald "Fitz" Grant on ABC's most popular series Scandal, but is also about to be seen in the highly anticipated feature film Divergent. And he's also adding TV production to his resume with the upcoming series The Divide. If there's something that he can't do exceedingly well, we haven't found it yet. BFTV checked in with one of our top five actors of all-time on Monday.
In Divergent, based on the young adult book of the same name by Veronica Roth, Tony plays the character of Andrew Prior, father of the film's heroine Tris Prior and her brother Caleb. For those of you who haven't read the novel, "Divergent is an action-adventure story set in a futuristic Chicago which is sort of after an apocalyptic war," he explained.
"The society of this city has reorganized itself and divided itself amongst five factions based on dominant personality traits. [Andrew's faction] Abnegation is charged with running the government, under the idea [that] being dedicated to selflessness and service, they will be the most trustworthy."
"I play [Tris's] father, and that's sort of where you find us," he continued. "My daughter, as well as my son, go through this ceremony and this crazy adventure."
Of course, you don't bring in Tony Goldwyn to play the father figure who sits on the sidelines. While he may be a supporting character, Andrew gets his own piece of the post-apocalyptic action, as you can see in the picture at the top of this article. He's definitely not just there to dispense fatherly wisdom.
If you haven't yet seen the film's trailer, check it out below.
It's not surprising that Tony's Divergent character is in a position of power, because we hear that he's good at that sort of thing. His day job is playing the President of the United States, a role that right now is just about as stressful as the real deal. Fitz is in the middle of a re-election campaign with craziness all throughout the corridors of the White House.
Plus, oh yeah, his old friend and new candidate for Vice President (Jon Tenney) is putting the moves on Mellie (Bellamy Young), meaning that Fitz - who's been stepping out on Mellie since before Scandal began - could soon be on the other side of the adultery equation. What's it like for turnabout to be fair play?
"It's so interesting," Tony reflected. "Jon Tenney's an old friend of mine. It's so great to have him aboard. He's amazing. He and Bellamy have great chemistry. It becomes very, very complicated for Fitz if he ever finds out about that." And this being Scandal, we bet he will.
In addition to the fabulous work he's been doing in front of the camera (the scenes between him and Joe Morton were the best part of the first half of the season), Tony also worked his magic behind it for next week's episode of Scandal. It was his second time directing - following "A Woman Scorned" in season two - and he told us he was glad to be back.
"The thing about directing Scandal is it's so unique," he explained. "We're such a tight family on Scandal. So to step behind the camera and direct that show, it's such a blast. It's really great. It's a very different experience than directing other shows."
And with only five episodes left in the season, if you're not holding onto the edge of your seat already, you should be starting tonight. "This week's episode is absolutely mindblowing," Tony added, "and it just gets crazy leading up to the finale."