'Scandal' Season 2: 5 Spoilers You Need To Know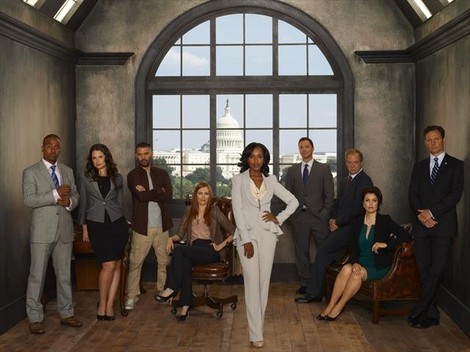 ABC's "Scandal" was a surprise mid-season hit last year, centering on professional "fixer" Olivia Pope (Kerry Washington) and her ragtag team of lawyers and associates. Season two (a whole 13 episodes versus just seven last season) premieres on Thursday, Sept. 27, and we have some spoilery goodies to hold you over until it returns in a couple of weeks...
1) After Olivia and her team tried to hide any connection between Quinn Perkins (Katie Lowes) and her dead reporter boyfriend Gideon at the end of the first season, the question of Quinn's identity came up. Viewers will learn the truth about Quinn, including her real name, in the premiere.
"That question spins us into a new, larger scandal that we're following," creator Shonda Rhimes told TV Guide over the summer. "The question becomes: What happened to Quinn Perkins to make her this way and who was responsible?"

Lowes also told TVGuide that the reveal is "like nothing you can imagine."

Washington revealed to TVLine.com, "We find out who she is, but we're still left with why, and how… all of that."