Saxophonist/Vocalist Mindi Abair To Release 'Stars' On May 6

Mindi Abair
, saxophonist/vocalist/composer is set to release her first Peak Records (a division of Concord Music Group) CD titled
Stars
on May 6, bursting on to the pop scene as one of an exciting new generation of crossover artists. For the CD, Abair wrote 11 new songs, with five songs showcasing her vocals. Her instrumental single, "Smile," is currently at #13 and is rising; and her vocal song "Stars," made its way to radio on April 28. Collaborator/producer Matthew Hager enlisted a group of stalwarts from the pop world to contribute to the new CD including keyboardist Ricky Peterson (
John Mayer
,
Prince
), drummer Abe Laboriel, Jr. (
Paul McCartney
,
Sting
) and cellist Richard Dodd, (
Faith Hill
,
Foo Fighters
).
Mindi will also preview tracks from the new CD to fans worldwide at DeepRockDrive.com on May 1 @ 6:00 p.m. PST (from Las Vegas), a high-definition, multi-stream live show in which fans from all over the world can enjoy her concert simultaneously. Each participate can "shout out" song requests and send messages to Mindi live throughout the performance. For more information on Mindi Abair's concert on DeepRockDrive or to sign up for her show, visit
http://www.deeprockdrive.com/artist/mindi_abair
.
Stars
is the follow up to Abair's 2006 CD
Life Less Ordinary
, which debuted on Billboard's Contemporary Jazz chart at #1; and spawned three #1 hit singles on Radio & Records. Her debut CD,
It Just Happens That Way
, stayed in the Top 10 for 19 consecutive weeks, and she was named the #1 most played Contemporary Jazz CD of 2003 by Jazz Week. Abair has established herself in the pop world touring with
Adam Sandler
,
Mandy Moore
,
Josh Groban
,
Duran Duran
and
Backstreet Boys
' Millennium Tour; and her vocal song "I Can Remember" was featured in
Aaron Spelling
's hit "Summerland"; while "Every Time" was featured in
Robin Williams
/Mandy Moore's
License To Wed
.
"While I was writing the songs for
Stars
, I felt very optimistic, expressing a lot of joy and hope," says Mindi. She adds, "We need that spirit to take hold of us today, and I am excited about expressing these ideas through songs that are meaningful to me and reflective of my journey and the many roads I've taken. I'm going for broke, making the record I've always wanted to make with songs that honestly portray my innermost feelings about my own life and the world around me."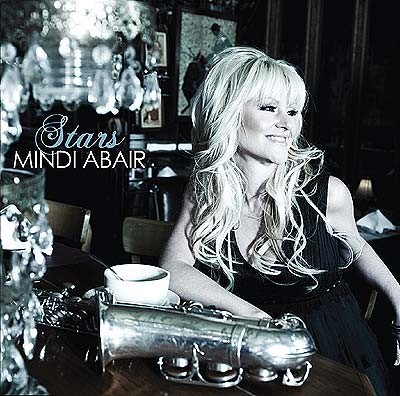 Mindi also hosts a popular weekly syndicated radio show called "Chill with Mindi Abair" that is broadcast in 40 markets in the U.S. and abroad. Each week, she features cutting edge music by artists such as
Zero 7
,
Air
,
Thievery Corporation
, and remixes of classic jazz artists such as
Billie Holiday
and
Nina Simone
. A hugely popular solo concert and festival attraction over the past seven years throughout the U.S., Abair recently performed for fans in Japan, Istanbul and Romania.
Says those who have worked with her --
Josh Groban
-- "I was a fan the moment I saw a tape of one of her concerts. Her ability to connect with the crowd and appeal to jazz fans as well as those who aren't familiar with her makes her an exciting artist, and I was thrilled to have her as a guest on my tour." Blues giant
Keb' Mo'
takes it deeper: "She speaks to all of our souls. Do yourself a favor and check out her music."
John Taylor
of
Duran Duran
sums up: "Mindi is unique. Listen to her new album 'Stars,' a genre-busting, breathtaking combination of contemporary jazz and Top 40 torch songs. It will be love at first listen."
Listen to "Stars":
Quicktime
|
Windows
Mindi Abair Tour Dates
Apr 24 7:00P National Anthem at the Padres Game San Diego, CA
May 1 6:00P DeepRockDrive.com Everywhere, CA
May 3 8:00P Tangiers Akron, OH
May 4 8:00P SunFest West Palm Beach, FL
May 6 8:00P WSJT CD Release Party Tampa, FL
May 7 8:00P WLOQ CD Release Party Orlando, FL
May 8 8:00P WGRV CD Release party Melbourne, FL
May 9 8:00P WLVE' CD Release party Miami, FL
May 13 8:00P KIFM CD Release party Mission Viejo, CA
May 16 8:00P The Hyatt Newport Jazz Festival Newport Beach, CA
May 24 8:00P Gaslamp Quarter (Street Festival) San Diego, CA
Jun 6 8:00P Celebrity theater Phoenix, AZ
Jun 13 8:00P Fraze Pavillion For The Performing Arts Kettering, OH
Jun 15 8:00P 10th Annual V98.7 Smooth Jazz Fest Southfield, MI
Jul 9 8:00P Animal Crackers Jazz Series Racine, WI
Jul 12 8:00P Thornton Winery Temecula, CA
Jul 25 8:00P Four Seasons Resort Aviara Carlsbad, CA
Jul 26 8:00P Hyatt Westlake Plaza Westlake Village, CA
Jul 27 8:00P King County's Marymoor Park Redmond, WA
Aug 9 8:00P 21st Annual Long Beach Jazz Festival Long Beach, CA
Aug 23 1:00P Sand Castle/Stepping Stone/American Red Cross Charity Event Michigan City, IN
Aug 26 8:00P Birchmere Alexandria
Aug 27 8:00P Ramshead On Stage Annapolis, MD
Aug 28 8:00P Scullers Jazz Club Boston, MA
Aug 29 8:00P IMAC/Inter-Media Art Center Huntington, NY
Aug 30 8:00P Mohegan Sun Casino Wolf Den Uncasville, CT
Sep 12 8:00P The Wave Summer Jazz Series Newport Beach, CA
Sep 13 1:00P Palmdale Jazz & Wine Festival Palmdale, CA
Oct 2 8:00P Unplugged at the Wrigley Ranch Avalon, CA
Oct 17 8:00P Catalina Jazz Fest Avalon, CA
More Mindi Abair:
-
Starpulse Page
-
Official Site
-
MySpace