Saving 'The Chicago Code' - The Fans' Story
FOX's The Chicago Code is an outstanding series. What's equally worth talking about are similarly great efforts of its fans to save it. It's my pleasure to bring you my insider's blog as the fans fight to bring The Chicago Code back.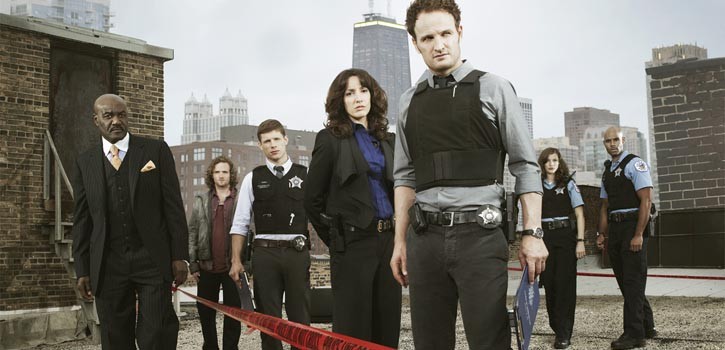 Day 0
Late Tuesday, May 10, 2011, word leaked that The Chicago Code would be no more. FOX's decision to axe the drama came as a surprise; its ratings had gone up 7% just the night before, and with no shortage of critical praise, it had been considered the strongest of the network's "bubble" shows. Surprise quickly turned to anger for the show's devoted fan base, who had been supporting the series all season long and swung into another gear to protest the cancellation.
Day 1
By Wednesday morning, Ashli Garza had launched a Facebook page to Bring The Chicago Code Back, and it had become the hub for a rapidly forming fan effort. The page had over 1,000 likes in the first 24 hours and that number is growing.
Fans dug up contact information for FOX President of Entertainment Kevin Reilly, the man who had broken the news to series creator Shawn Ryan, and immediately began to call, email and write on behalf of their series. This was no small effort: as one fan noted on Facebook, when he called Reilly's office, the exec's assistant told him she'd been fielding a lot of calls like his that day...
I had the unfortunate task of posting the news on the show's fansite, ChicagoCodeFan.com, and even I got plenty of comments from upset fans. I didn't have time to answer them all, however, because I was one of those people contacting Reilly's office, and busy giving my best eulogy for both Chicago Code and my other favorite series, Human Target. That commentary now has over a hundred "likes" on Facebook and double digits in comments.
Writing that piece was when I knew this was going to be something different. I've loved and lost quite a few shows over the decades I've been watching TV (RIP, Sports Night, K-Ville, Traveler, Keen Eddie...), and every time I've certainly wished it wasn't so. Many a cancelled show has had a fan outcry over it. Yet this is a different show, and these are different fans. The Chicago Code was more than a TV show for many of us; it was not just entertainment but something that affected us, or represented our city, or made us think. As a result, the show's fans are some of the most dedicated I've ever seen.
That was when I knew I had to start keeping a blog. Win or lose, I knew this was a story that needed to be told.
Day 2
Good news and bad news on Thursday. Word broke that Matt Lauria, who so well portrayed Caleb Evers on Chicago Code, had booked a guest role on USA's Burn Notice that might become a recurring part.
This was obviously good for Matt, and as such it was hard not to be excited, especially since he was moving to another great series. At the same time, many fans wondered if this meant he would be unavailable to return to playing Caleb should The Chicago Code make a comeback.
The honest answer is it's too soon to tell.
Meanwhile, an online petition to save the show continued to circulate across Facebook and Twitter, and amass over a thousand signatures in its first 48 hours. And still another plot was brewing: in the vein of many fan drives past, what to send to FOX along with our letters...? Stay tuned.
Day 3
A shout-out to Cathy and her fellow fans of TNT's also axed, also resurrected cop show Southland: upon hearing of our similar plight, they were willing to step up and help me with getting the word out to save Chicago Code. Having the support of fans who have already run a successful campaign was a huge, huge blessing.
This prompted a discussion amongst the fans: would another network take our show? Should we be writing to other channels than just FOX? The agreement was that we certainly should, but perhaps best to wait until we knew which networks had any interest, rather than expending too much effort writing to every single one out there. Knowing that Shawn Ryan was exploring that same possibility himself, we agreed to sit back and wait, hoping to find a network that would listen to him - and to us.
Day 4
Discovered tonight that Todd Williams, who plays Isaac Joiner, tweeted me to thank me for the support. That made my day.
Day 5
This is the first day I've had to sit back and look at all the website comments, tweets and emails I've gotten from Chicago Code fans over the past week. The outpouring of love for the show has been overwhelming. I'm blessed in that the fans recognize how much I love the show as well - they've asked me to be a major part of this effort, which I'm all too proud to participate in. For my part, I am as big a fan of the show as anyone, and if I can use my platform in the media to help it survive, I want to. The show and everyone involved in it have earned that.
The last week has certainly been an interesting experience for me, from an emotional standpoint. It's one thing to be a journalist and just report the facts of a show's cancellation. It's another for it to be a show I deeply love personally and that I know is comprised of wonderful people. And it's surreal to be running the fansite, posting promos and news, knowing it might be some of the last we ever see.
Cancellations always are horrible in my job, but they happen, and most of the time I accept them. I know that this is a business. I know that in the grand scheme of things it's not the end of the world. As dearly as I loved Human Target, I saw the writing on the wall a few months ago and I've had time to make peace with it coming to an end. But when it comes to The Chicago Code, things are different.
I have a unique, painful, interesting feeling inside of me: that I am not okay with this, and I am not letting this show - not just this show, but these experiences, opportunities, these people I've met and have yet to meet - go down without a fight. I said that about Human Target last year, and I'm saying it about The Chicago Code this year. It might all mean nothing, but I can't in good conscience walk away without knowing I did everything I could.
I'm not alone in that, either. I want to share with you some of the things that have been sent to me so far from other fans:
"As a Chicagoan, it is exciting to see a show evolve around all the places I've been and things I've seen. Code and its storyline fit perfectly in Chicago, and create a character of the city itself," said Justin Schroeder, who launched the Save The Chicago Code Facebook event. "The franchise and its fans deserve to see what another season will bring."
His sentiments are echoed by another Chicago resident, Emily Runyan. "It's interesting, thought provoking, well done and necessary TV. I hate to see TV shows that mean something being pulled off the air."
I can't think of a better quote, though, than to borrow from a letter written by Sierra Campbell: "It's a shameful reality when such great, and practically unknown actors (with the exception of Jennifer [Beals]) may never get the chance to act in these roles again."
As proud as I am of this show, which quickly became one of my favorite series ever to see air, I'm just as proud of the fans. They're not just raging against the cancellation of an hour's worth of entertainment. They're motivated by and fighting for so much more than that: what that hour of time has brought into their lives. As a writer, that impact is more priceless to me than any award or ratings numbers would ever be.
How can you get involved?
If you're a Chicago Code fan looking to join the fight, I have exactly the tools to get you started. I've written a guide on how you can help save The Chicago Code. It tells you everything you should do, and how you can do it, to keep this great show on the air. You can also visit ChicagoCodeFan.com.
Most importantly, you can keep watching the show live Monday nights at 9 PM ET/PT on FOX. Prove to the network that last week's ratings jump wasn't a fluke and show them that they made the wrong decision. If the numbers stay solid, that gives us more of a fighting chance.
Stay tuned for my next insider's blog as we continue to fight for The Chicago Code.