Sassy Songstress Katy Perry To Release Debut Album, 'One Of The Boys,' On June 17

L.A.-based singer/songwriter
Katy Perry
's debut album, "One Of The Boys," will be released by Capitol Records June 17th. Perry will also join the traveling rock circus that is the 2008 Vans Warped Tour, for the entire trek this summer.
One of the Boys
is a sharp and witty pop-rock gem filled with candid tales of neurotic ex-boyfriends ("Hot N Cold," "Ur So Gay", "Mannequin"), crazy road trips with friends ("Waking Up in Vegas"), and figuring out who you are along the way (first single "I Kissed A Girl," "Fingerprints"). While the album displays Perry's feisty, girl-power swagger, it also reveals her more vulnerable side on such regretful ballads as "Lost," "I'm Still Breathing," and "Thinking of You."
"I think people can appreciate a songwriter who shows different sides, and this album has many different colors," Perry says. "I can write my share of angry break-up songs but I wanted to balance it out with fun, summertime songs. But there are also sad songs about loss and making the wrong decisions. It's been blood, sweat, and tears making this record. I've put everything into it and I feel like it's my baby. When people listen to it, I hope they will understand where I'm coming from as a person."
To showcase her sharp, observational lyrics and big, charismatic voice, Perry worked with a host of noted producers and collaborators, including Greg Wells (
Mika
,
Natasha Bedingfield
), Glen Ballard (
No Doubt
,
Alanis Morrisette
),
Dave Stewart
(
Eurythmics
), Dr. Luke (
Kelly Clarkson
,
Avril Lavigne
), Max Martin (
Leona Lewis
,
Robyn
), Sam Hollander & Dave Katz (
Gym Class Heroes
,
Boys Like Girls
) and Butch Walker (
Pink
,
The Donnas
). "You can't get better than these guys," Perry says. "I feel like the luckiest bitch in town right now."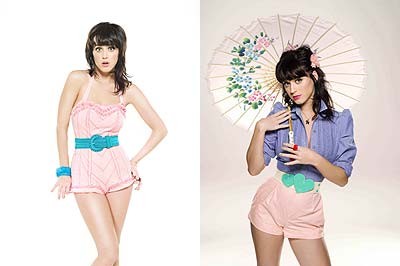 One of the Boys
is the full-length follow-up to Perry's debut digital EP,
Ur So Gay
(available on iTunes since last November), which has already earned the 23-year-old Santa Barbara, CA, native a solid fanbase. Perry's "Ur So Gay," a hilarious kiss-off to a guyliner-wearing ex that Blender called "wickedly funny" and Billboard called "zeitgeist-capturing," was recently praised by
Madonna
as her new favorite song on the Johnjay & Rich and
Ryan Seacrest
radio shows. The video for the clip, which premiered on
MySpace
had close to one million plays within one week of it being posted to the site. Perry has also been tapped for Yahoo!'s Who's Next Critical Eye and MSN's Ones to Watch for June.
Perry will play a handful of live dates this spring on both coasts before heading out on the Vans Warped Tour. "Warped is going to be grueling and hot, but I'm ready to survive it -- even without showers," Perry says. "Gwen Stefani did the tour back in 2000 with No Doubt and she looked fabulous hopping around on stage in her little polka-dotted dresses. You can find YouTube clips of her up there and all the girls in the audience are going nuts. I am so channeling that."
Get to know music's newest dynamite diva by visiting her
official website
her
MySpace page
or her
Starpulse page
.
Listen to Katy Perry's "I Kissed A Girl," the first single off her June 17 debut:
I Kissed a Girl (Rock Mix)
I Kissed A Girl (Nevins Rock The Club)
I Kissed A Girl (Nevins Rock The Club Inst.)
(Streaming audio and/or video links may expire without notice)