Sasha Grey Strips For PETA

Adult star Sasha Grey is doing her part for a new People for the Ethical Treatment of Animals (PETA) campaign, encouraging pet owners to neuter and spay their furry companions. Yowza. See more sexy PETA ads after the jump.
R&B star Kelis recently made waves with PETA for wearing fur. Addressing her fondness for animal coats, Kelis wrote, "It's not just the look of fur. It's warm as hell and feels glorious, ever rubbed faux fur on your body? Nothing luxurious about that.

PETA responded, "Please know that animals killed for their fur endure immense suffering. Foxes, minks, coyotes, and rabbits - and even dogs and cats - are bludgeoned, strangled, genitally electrocuted, and even skinned alive for their pelts."

PETA recently handed director James Cameron a Proggy Award for Outstanding Feature Film for "the inspiring message in his blockbuster" Avatar.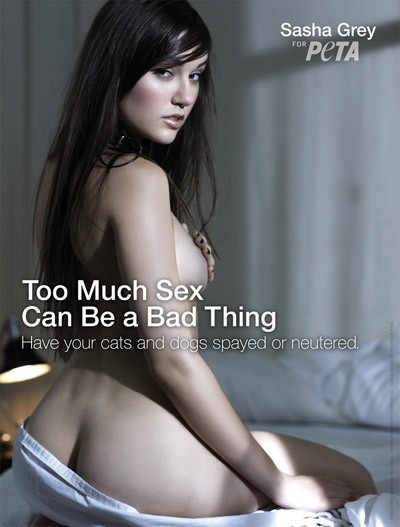 Click the pics to see these other hot celebrity PETA ads: