Sarah's Cinema Musings: When A Remake Is Redundant

As many of you have noticed, even those of you who have sought residence under a comfortable moss-laden rock, there is a virus in cinema. This virus is the concept of the remake. Yes, in a time when production budgets are dependent on a 'sure bet', there will be hyper-formulaic films. The issue now is the remake-remake. Confused? You are not the only one. Remakes of remakes, sometimes more positively spun as 'reimaginings', are not unheard of. '
Batman
', '
Superman
', and many of the old sci-fi classics like '
War of the Worlds
', '
Dracula
', '
The Day the Earth Stood Still
', amongst many others have suffered the same fate. While technology is a symbiotic element to most of these remake-remakes, there is always the apprehensive position that wishes to protect the nostalgic classic version in its original cultural context.
Two upcoming examples currently infuriating past and present followers of these cult realms are '
Buffy the Vampire Slayer
' and '
Battlestar Galactica
'. No, I am not a decade behind, this isn't about the
Joss Whedon
take on 'Buffy' or the 2004 'BSG' series. If you research the 'Buffy remake' on an internet search engine you will not find articles discussing Whedon's remake, but instead the May 2009 information release of a possible 'Buffy' feature film; considered by Whedon fans to be a remake. Vertigo Entertainment is behind it all, bringing back the original film's director, Fran Rubel Kuzui, and her husband, Kaz Kuzui. Most of the articles discussing this disaster in the works, as sections of Whedonites are calling it, are negative. With Whedon on the fringe of this Vertigo news, will fans actually be interested? The company, as many including myself view this decision, is trying to capitalize on the recent vampire obsession in film and TV.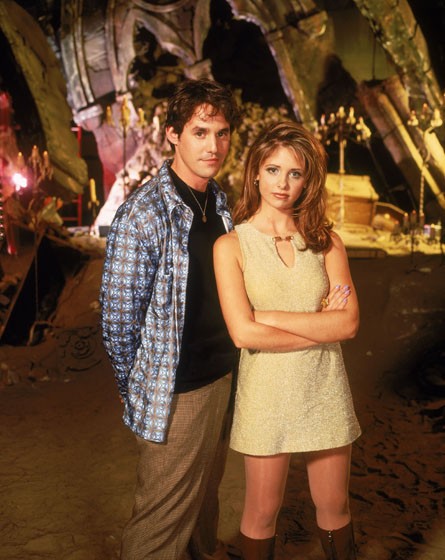 Buffy The Vampire Slayer © Twentieth Century Fox
This is not happening just for vampires, but now for Cylons as well. The 2004 miniseries of 'Battlestar Galactica', and the subsequent television series that aired for four seasons on then Sci-Fi network, awakened the 1970s original series, but with a specific tone and political focus. The intensely popular 2004 incarnation was consumed by fans and ignored by the Emmy and Golden Globe Awards. The value of the narrative, and the success of the show via ratings and DVD sales, has led to the news of a remake of the 1970s production. Universal Pictures recently confirmed the 'reboot' (their words, not mine) of the 1970s show and that it will be directed by Bryan Singer. Singer, famous for directing '
X-Men
' and '
X-Men 2
', is not exactly a novice on these so-called 'reboots', also having directed '
Superman Returns
'. His production company's name isn't even original. 'Bad Hat Harry' is a reference to a quote from '
Jaws
', "That's one bad hat, Harry."
There is hope yet. This weekend, '
District 9
' opened in the US and took the lead of the box office, coming in at a reported $37 million- besting '
G.I. Joe: Rise of Cobra
' and the rest of the lineup. 'District 9', a completely original project that was protected from being gobbled up and narratively mangled by a major studio, had a low budget, and a completely unknown cast. Do you think productions like 'District 9' could save a portion of original narratives coming from inventive filmmakers?
Story by
Sarah Lafferty
Starpulse contributing writer
Follow Sarah on twitter at
starbuckscout
.