Sarah Rafferty: Meet TV's Top (and Most-Talked About) Assistant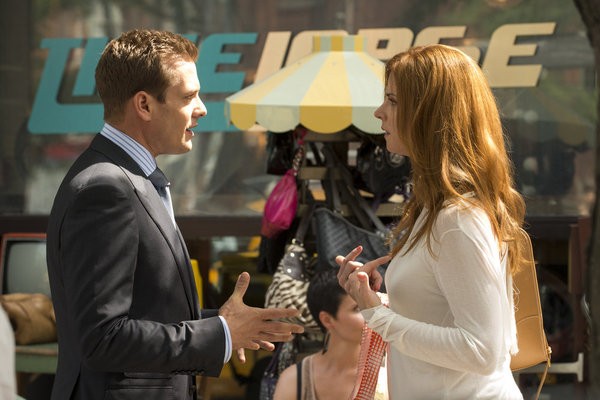 Post-higher education, her resume began with television guest roles, including Law & Order (in 1999), Third Watch (in 2002), and Without A Trace (in 2003). Chances are, you probably saw her in something before you even knew who she was. But these journeyman (or woman!) performers are some of the most underrated, because they are no flash in the pan. They have the time to hone their craft and to play many different roles, allowing us to see them as each character, rather than the person behind them.
Take, for example, Rafferty's guest appearance as Margo in the final season of CBS' Numb3rs in 2009: she is the anti-Donna, a character who isn't a good person and isn't around that long, but the character is still memorable regardless.
How does she take a role from script to screen so effectively? "I think a lot about the backstory," she explains. "Where they came from, the circumstances of their life. I like to imagine the circumstances that may have led to them being who they are in the moment that we meet them."
If that sounds familiar, it's because backstory is also something Macht discussed as important in his character development process, including with Suits. "Gabriel and I definitely talk a lot about backstory and who our characters are and ask a lot of questions," Rafferty confirmed. "We talk to our writers about those things too." That explains a lot about how they have created a pair of exceptional characters: they both go beyond the page. Great minds think alike.
No matter the part, she's always looking for one thing: solid writing. "It's always the writing that grabs you," she explains, "whether or not you connect to the writing and if you feel that you can bring something interesting to it. I'm very used to doing theater scripts, [so] I sometimes say to my manager and agent, 'Oh, I can hear this.'"
Just don't ask her to pick a favorite role from her resume: she confides that she's notorious for not being self-promoting, to the point where friends and family don't know she's in something until they spot her in it or her husband sends out emails behind her back. She is the very definition of the phrase "lack of ego," which only makes her even more endearing.
Her career continued with appearances on CSI: Crime Scene Investigation (in 2004), in the busted pilot Football Wives (2007), and on Law & Order: Criminal Intent (2009). Yet without a doubt, her breakout role - the one she's deserved all along - came last year with Suits, an idea that got started courtesy of Macht, whom she's known since those early days in college.
"It was actually Gabriel who sent it to me," she said. "When I read the script for the first time, I knew it was really special. I could really hear each one of these characters. They were written so specifically. You had a sense of who they were."