Sarah Rafferty: Meet TV's Top (and Most-Talked About) Assistant
They say you never know what you've got until it's gone. That could apply to USA's Suits: ever since complex, sassy and deeply loyal assistant Donna Paulsen was fired from Pearson Hardman, the audience has been up in arms and the series hasn't been the same. It's not hard to see why Donna has captured the hearts of Suits fans and fans of good TV alike.
She's played by Sarah Rafferty, one of television's top actresses.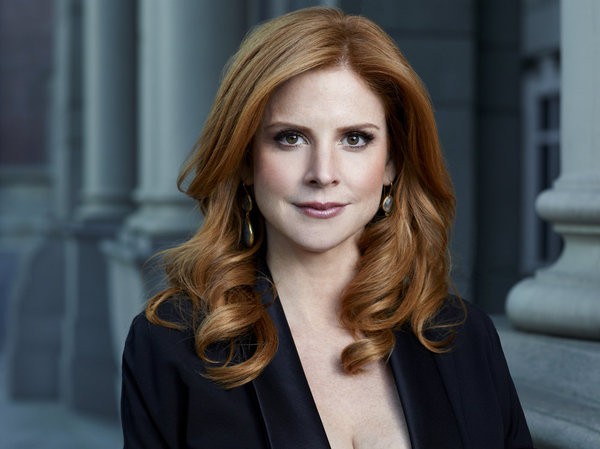 The role of Donna has brought plenty of deserved attention for the veteran actress. It's the part that many women would kill for: a great wardrobe, plenty of sharp dialogue, and the ability to work with the best ensemble on the small screen. Yet it's also a role that many would screw up. We've seen plenty of snappy secretaries with a third of the depth, not to mention that it's one tall order to be working opposite Gabriel Macht, who is the smartest actor on television. An actress could easily be vastly underutilized or eaten for lunch by this job description.
That's where Rafferty owns the part. While Donna's formal title may be "assistant," make no mistake about it: both character and actress are standing as equals, not subordinates. Donna may be witty, but she exists for far more than punchlines; she and Harvey Specter are an excellent partnership, with a real give and take between them. One could never imagine her relegated to merely fetching coffee and cracking wise. Not when the scenes between Donna and Harvey in the second season have been some of Suits' strongest and most emotionally raw to date.
If there's any question about Sarah Rafferty's acting, it's what took us so long to pay attention?
Like many talented actors and actresses, she started toward her career on stage. "I was sort of the theater geek all through, probably starting in sixth grade," she tells me during a recent interview. "In college, I spent my junior year abroad studying acting in London and in Oxford. When I was studying in Oxford, I met the dean of the Yale School of Drama. I auditioned for Yale and was accepted, and probably getting accepted into drama school was when I realized I'd pursue this."
In fact, her educational pedigree would make a lot of nerds jealous. The University of Oxford happens to be the oldest university in the English-speaking world, and the Yale School of Drama is an Ivy League graduate institution that also boasts director Elia Kazan and actresses Meryl Streep and Sigourney Weaver among its alumni. While many actors and actresses can point toward college as the beginning of their journeys, Rafferty started in the major leagues.