Sarah Polley Is Married And Pregnant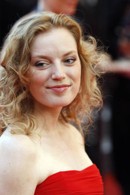 Actress Sarah Polley secretly wed her boyfriend last month and the couple is already planning a family - the Splice star is pregnant.

Polley and David Sandomierski tied the knot during an intimate ceremony with friends and family in Toronto, Canada - and now the newlyweds are celebrating baby news.

The actress is three months pregnant with the couple's first child.

She tells Toronto.com, "I'm really excited, super excited... It was pretty much the best wedding of all time. Lots of great food."

She is due to give birth early next year.