Sarah Michelle Gellar Recommends Stars To Visit Comic-Con In Disguise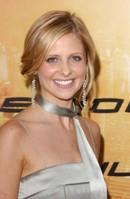 Sarah Michelle Gellar is urging fellow stars to follow her lead by attending Comic-Con in disguise.
 
The actress is set to appear at this year's comic book convention in San Diego, California this weekend to promote her new TV show Ringer.
She has been a star guest at the event many times in the past and she enjoys mingling with fans in the main hall anonymously by wearing a mask to cover her face.

Gellar tells the Hollywood Reporter, "I always say to actresses, if you haven't been - this is going to sound really funny - but get a mask and take a look around. I'm serious. You get rushed into your panel (discussion) and you come out of the backside, and you never actually see the main hall. It's pretty amazing."

Superbad star Michael Cera fooled fans at last year's convention by walking around the event in a gorilla mask.