Sarah Michelle Gellar & Freddie Prinze Jr. Expecting Second Child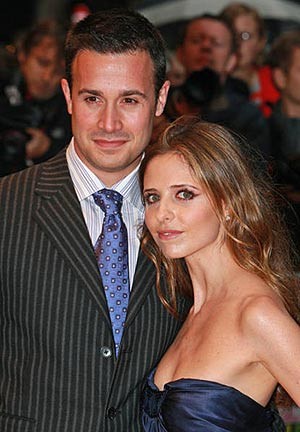 Ringer star Sarah Michelle Gellar is pregnant with her second child.

The former Buffy The Vampire Slayer star and her husband, actor Freddie Prinze Jr. are adding another mouth to their family, confirms Us Magazine.com.

"She and Freddie are thrilled," a friend of the couple tells the magazine. "They're amazing parents."

Gellar gave birth to the couple's daughter, Charlotte Grace, in September 2009; and the actress recently revealed that she let her little girl pick her red carpet outfit for this year's Golden Globes.

"It's funny - I didn't try on that many dresses," she told People.com in January. "My two year old walked in, walked up to this dress and said, 'Mama, wear this!' So I put it on and said, 'OK!'

"She really went for it. She chose the bag and shoes. I let her pick all of it."

Gellar and Prinze married in 2002, a few years after meeting on the set of hit horror flick I Know What You Did Last Summer. The two also starred together in Scooby-Doo and Scooby Doo 2: Monsters Unleashed.