Sarah Mclachlan's Masterpiece, 'Fumbling Towards Ecstasy,' Gets 2CD/DVD Treatment

In 2008, twenty years after she began her recording career in 1988, Vancouver's
Sarah McLachlan
remains one of the most enigmatic personalities in pop. Over the course of her 14 separate album releases (which include six original studio albums), the quiet, burning passion of McLachlan's music has resulted in three Grammy Awards and eight Juno Awards in her native Canada, and sales of more than 35 million albums, singles and videos worldwide.
The trajectory of Sarah McLachlan's broad popular success outside Canada began with the late-1993 release of her third album,
Fumbling Towards Ecstasy
, which gave Modern Rock radio three solid singles to call its own: "Possession," "Good Enough," and "Hold On." A live VHS released in late-1994,
Fumbling Towards Ecstasy – The Home Video
, reprised many of the album's songs, along with several earlier numbers, plus a cover of
Tom Waits
' "Ol' 55." The momentum carried over to a third project in early 1995,
The Freedom Sessions
, comprising alternative versions or early demos of more than half the
Fumbling
songs, and "Ol' 55."
Now,
Fumbling Towards Ecstasy
:
Legacy Edition
brings these three releases together into one 2-CD+DVD package for the first time, with bonus material on each disc that makes it a must-have for true McLachlan fans. Fifteen years after the first recordings that began this arc, the deluxe three-disc edition will arrive in stores August 5th on Arista/Legacy, a division of SONY BMG Music Entertain­ment.
Fumbling Towards Ecstasy
represented the first major breakthrough for Sarah McLachlan. In 1993, she was five years into her career, after two albums that were critical favorites – her debut
Touch
(1988) and
Solace
(1991) – but had not broken inside the Top 100 on the U.S. charts. In 1992, Sarah began documenting in song her experiences working on a documentary about poverty in Asia. Recording sessions began in Montreal with producer Pierre Marchand, with whom she'd first worked on
Solace
and who would go on to produce virtually every record she has made to date.
Fumbling Towards Ecstasy
was issued in October 1993 in Canada on the Nettwerk label, and in the U.S. on Arista. It took five months for the album to catch on in this country, until the spring of 1994, when FM radio began playing "Possession" – which rose to #4 on Billboard's Modern Rock chart. "Good Enough" entered the same chart that summer, and Fumbling was certified RIAA gold in August, Sarah's first U.S. gold record.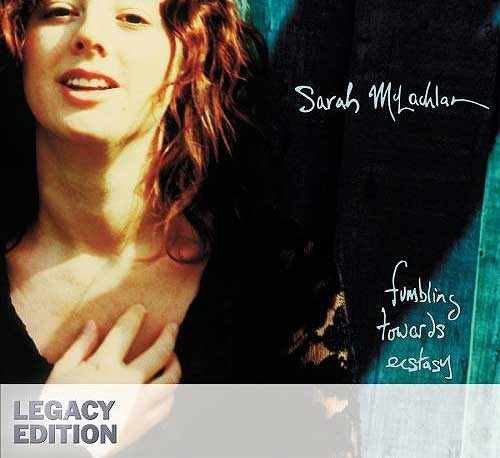 "Good Enough" hit #16 at Modern Rock and was followed with "Hold On" in early-1995, by which time Fumbling had earned RIAA platinum. The album stayed on the Billboard Top 200 album chart for 100 weeks, eventually winning double-platinum (August 1996) and triple-platinum (June 1998). In Canada, the album is 5-times platinum, and worldwide sales are in excess of 5 million units. This new
Legacy Edition
contains the solo piano version of "Possession" that was originally a 'hidden track' closing the album.
The initial acceptance of
Fumbling Towards Ecstasy
immediately expanded Sarah's profile as a touring artist in 1994. This was documented on the pre-Christmas December release of
Fumbling Towards Ecstasy – The Home Video
, which contained 14 live performances. From the album, fans recognized "Plenty," "Good Enough," "Wait," "Ice," "Hold On," "Possession," "Mary," "Ice Cream," and of course the title tune. From
Touch
, she reprised "Ben's Song" and "Out of The Shadows"; and from
Solace
came "I Will Not Forget You" and "Path of Thorns." Finally, there was the 20-year old Tom Waits standard that Sarah liked to sing, "Ol' 55."
For this new
Legacy Edition
, the 2008 DVD has been expanded to include a slide show; an EPK (
electronic press kit
) created for the original release of
Fumbling Towards Ecstasy
; four promo video clips of "Possession" (
the U.S. version followed by the Canadian version
), "Hold On," and "Good Enough"; and an archival photo gallery.
In March 1995,
Fumbling Towards Ecstasy
was still selling on the album charts, the home video was also doing well, and MTV's
Unplugged
series had put a new spin on things. It was decided to release a small collection of bare-bones alternative tracks (or demos) recorded at the original
Fumbling
sessions.
The Freedom Sessions
gathered eight of these – seven album compositions ("Elsewhere," "Plenty," "Mary," "Good Enough," "Hold On," "Ice Cream," and "Ice") along with the by-now familiar "Ol' 55." To these, the
Legacy Edition
now adds a second alternate version of "Hold On."
With her next album, 1997's 8-times platinum
Surfacing
(which contained "Aida," "Angel," and "Sweet Surrender," and generated her first two Grammy awards for "Building a Mystery" and "Last Dance"), and the first Lillith Tour she organized that same summer of '97 – Sarah McLachlan literally blasted off into the stratosphere as one of pop music's most enduring stars. But to truly understand and appreciate the scope of that worldwide success, it is necessary to dig deep into the sights and sounds of
Fumbling Towards Ecstasy
:
Legacy Edition
.
More Sarah McLachlan:
-
Discography/Reviews
-
Biography
-
Ringtones
Sarah McLachlan Image Gallery (click the pics for more):