Sarah McLachlan Pens Letter To Canadian Prime Minister Over Seal Hunting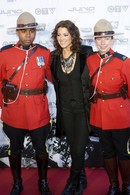 Singer Sarah McLachlan has penned a letter to Canada's Prime Minister Stephen Harper, urging him to ban commercial harp seal hunting.

The "I Will Remember You" hitmaker and longtime American Society for the Prevention of Cruelty to Animals (ASPCA) advocate wrote to Harper on behalf of People for the Ethical Treatment of Animals (PETA) on Friday in a bid to put pressure on Harper and lead him into action.

An excerpt of the document, which was obtained by the Toronto Star, reads, "The sealers - like tobacco farmers and asbestos miners - need leaders to devise a practical exit strategy for them, not waste millions more in hopeless World Trade Organization challenges or paying to stockpile pelts when buyers already have seal pelts going back several years. Won't you lead the way?"