Sarah Jones Dishes on Her New Leading Role in WIGS Series 'Kendra'
Sarah Jones knows how to handle a unique role. The actress has played a pregnant fugitive on FX's Justified, tracked down escaped criminals from another era as the star of FOX's Alcatraz, and recently stepped into the role of the strong but flawed title character in the WIGS web series Kendra. She recently spoke with Digital Airwaves about the experience of making Kendra.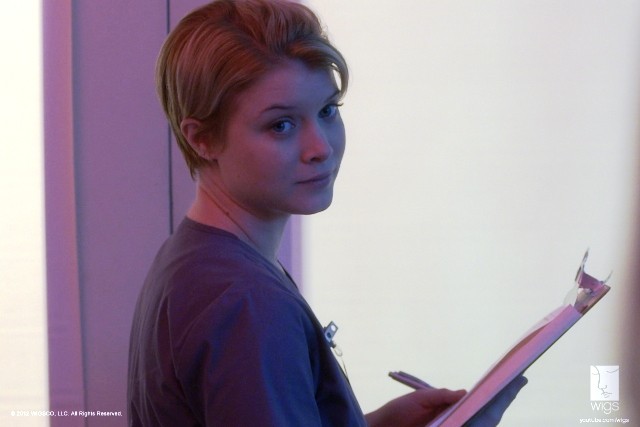 She was first attracted to the project by the presence of writer/director Jon Avnet. "Jon and I have worked together on some other projects before and if there's any chance to work with him, I take it," she said. "He's such a wonderful person to work with and he's so creative and he's just so lovely. He wants to collaborate and at the same time he knows how to direct things. And he has such a great vision."
For Kendra, that vision involved a main character who both is privy to the secrets of her patients and has more than a few of her own. "I loved the sort of 'twilight room' aspect of it," said Sarah, referring to the room in which Kendra deals with patients and their loved ones. "I liked the message of what Kendra has been bottling up and hasn't really faced herself, and to me, she sort of used this recovery room as a place to hide, because it was never going to be about her."
The role was Sarah's first in a web series, and "I'll say that there's nothing different," she explained. "The way that it was shot, it was like any other job. I think the only difference was the episodes are only seven minutes long so we did an episode a day, essentially."
"The really unique experience about this particular job is that everyone coming together to do this was there because they wanted to do it," she continued. "This is not a money job because this is new territory. The people that were involved, whatever position you were in, you were there because you wanted to be part of the project and embark on that new territory. You signed on because you were passionate about it. With that kind of energy on the set every day, it's really contagious.
"The really cool thing is that sometimes we would show up and there'd be another WIGS series shooting. I'd be in the makeup trailer and one day I'd see Alison Pill, who I think is an incredible actor and I admire so much, or another day Virginia Madsen would be there. And then you do work, and you do work with really great people."
Now that Kendra is finished, "I'm proud of it all. I'm really pleased with everything," she added, pointing out one memorable scene in particular: "I think that what really got me when I read the script and when I did the scene was when Kendra finally decides to open up to a complete stranger about her experience overseas and what happened to her, and what happened to her girlfriend. Just the fact that she finally put herself in such a vulnerable place. That was the strongest point of the series for me."
The series also stars Jason Isaacs (read his interview about Kendra), the latest strong actor Sarah has collaborated with following the likes of Timothy Olyphant (Justified) and Sam Neill (Alcatraz). Asked about that particular perk of her resume, Sarah said, "It's fantastic. I've always said the most efficient way to learn is to work with people who are at the top of their game, who really know what they're doing. I've fortunately had the luxury of working with some really great actors. And the best part is that they're kind and they're good human beings.
"It's always a privilege to do this job. Then to have the privilege of working with some of these actors and the caliber of actors that they are is sort of the cherry on top. At the same time it's just as much about me bringing everything that I can to the table so that their experience is worthwhile. It's all an exchange."
What's next for Sarah? "Right now I'm working on Vegas, the CBS show, and I'm currently working on an independent film called Return to Zero which I'm really excited about," she said. "It's a story about a couple that ends up having a stillborn [baby] and what that couple goes through. It's so well written and I think it's something that needs to be discussed. We need to start having an open discussion about it."
She's also a supporter of Staten Strong, an offshoot of the Boot Campaign founded by several Staten Island natives - including Sarah's boyfriend, Sons of Anarchy star Theo Rossi - that's working to provide aid and support to those in Staten Island affected by Hurricane Sandy. The organization is hosting a gala event at the Excelsior Grand on Staten Island on December 27. You can find out more information about the Staten Strong Gala by visiting the event website and more about the organization itself by clicking here. You can also view the PSA below.
Kendra is now showing on the WIGS YouTube channel with new episodes on Mondays and Fridays.
For more from Brittany Frederick, visit Digital Airwaves and follow me on Twitter (@tvbrittanyf).

(c)2012 Brittany Frederick/Digital Airwaves. Appears at Starpulse with permission. All rights reserved. No reproduction permitted.