Sarah Jessica Parker And Jim Carrey Love 'Fashion Police'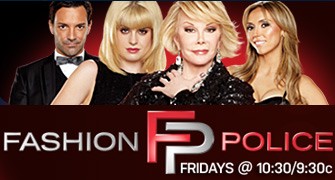 The Joan Rivers fashion critique has gone beyond only the red carpet awards shows. Every Friday night at 10:30 on E!, she hosts Fashion Police, covering the week's celebrity fashions with her daughter Melissa, George Kotsiopoulos and new cohost Kelly Osbourne. They can be pretty vicious, but they say the stars respect their opinions.
"Like Sarah Jessica Parker comes over and she'll say, 'I saw what you said about me.  So what do you think of the shoes now?'" Joan Rivers said. "They get it.  The smart ones get it."
Melissa recalled another run-in her mom had with Jim Carrey. "So Jim Carrey one time came up to my mom at the Golden Globes," Melissa said. "He had a pocket square, and he walks up and goes, 'Pocket square or no pocket square?' And she goes, 'No pocket square.' He takes it out and throws it on the ground and walks away. You know, he gets it."
In her tenure on the show, Kelly Osbourne has found only the no names complain about Fashion Police. "Hot Ticket is the part of the show we talk about the biggest event in Hollywood at that time, what people were wearing," Osbourne said. "If there's like one person that normally we really wouldn't talk about, haven't worked a lot recently or just not that big of a name, sometimes we put them into the show just to give it a chance to see how the audience will react to it, and it's them who have the problem.  They don't like it.  And we say, 'You should be happy people are talking about you.  That's what you want.'"
If the Fashion Police are hard on the stars, it's because they have the best of the best to choose from. "It's one thing if you're not a big star and you don't have that many options of dresses," Katsiopoulos said. "But if you're someone like Jennifer Aniston or Angelina Jolie, you can get anything you want in the world, and I mean any dress you want. So to choose something that's not flattering, those girls could literally get anything they want."
Joan Rivers recalls the disaster of Sigourney Weaver's relationship with Prada. "Sigourney Weaver got friendly with the Pradas, and they dressed her like they hated her," Joan said. "She must have like slept with Mr. Prada, and Mrs. Prada said, 'Okay.  Bitch, I'm taking care of you.'"
Rivers finds herself answering to the common folks too. "I live in New York and so I get the construction workers, 'Hey, Joanie, what do you think?'" Joan said. "I always say, 'Perfect for what you're doing. You look like a really well-dressed taxi driver, and you smell like one, too.  This is very good.'"
Fashion Police airs Friday nights at 10:30 on E!