Sarah Clarke on Her 'Challenging' Role In 'Covert Affairs' Season 3
Tonight's return of ​Covert Affairs​ also brings back one of TV's most underappreciated actresses, who's well versed in espionage: Sarah Clarke. The St. Louis native has had significant roles in two of the small screen's best spy series over the last decade: she played double agent Nina Myers in the cult hit ​24​ and more recently was Alex's previously missing mother during this past season of ​Nikita​.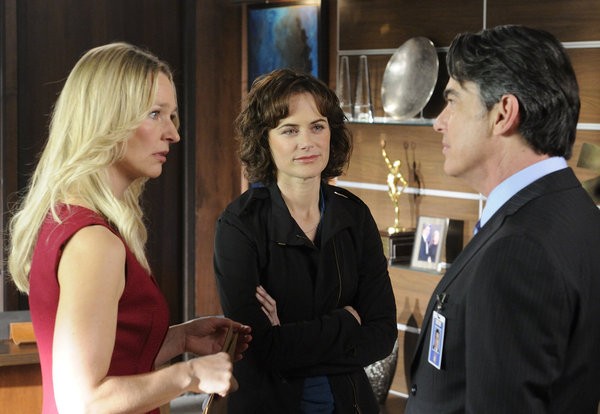 Now she's joining ​Covert Affairs​ in a new guest-star arc as CIA higher-up Lena Smith, who comes looking for Annie Walker (series star Piper Perabo).
As we await the broadcast of her ​first ​Covert​ episode, Sarah kindly sat down with me again to share some clues about who her character is and what it's like having such a great genre resume.
"I work in a division of the CIA out of Langley and I come to know Annie because I want her to come work for me," she explained. "What's nice about this job is I do play someone pretty high up in Langley and I do have to have that skill set again. It's almost like a mature version of Nina. Obviously, I'm not under the same circumstances as Nina [was] but I have a much worldlier view now as Sarah. It's challenging but so thrilling."
Since her days playing the right-hand woman to Jack Bauer who ultimately betrayed him, Sarah's career trajectory has changed, because her life has also flourished; she's gotten married and become a mother of two. "It's been very interesting playing these parts that have made it so I can be there as a mom," she said, adding that she also was trying to avoid being typecast. "After Nina, there was such a strong impression with that, that a lot of nefarious characters were thrown my way. I wanted to not reinforce that."
Now, Covert Affairs​ has provided her a chance to match her old work experience with her new life experience; she calls it "a nice segue from the mom role" she played both in the hugely popular ​Twilight​ film series and in this past season of ​Nikita​, where she spent more time in danger than saving anyone from it.
"I hadn't really gone back to the spy world since 24, so it was fun to sort of approach it from a new perspective ten years later," she explained. "I was really excited to have a lot of fun with the idea of the spy world. 24 was right after 9/11 and the whole idea of counterterrorism and all that was very intense. It was a very intense show. We were discussing things that seemed realistic.
"What I love about Covert Affairs is it's smart writing, but it's things that I don't have any immediate understanding about, so it's a whole new world for me. Piper [Perabo] is so much fun to work with. It's the nicest group of people. It's been fantastic."
Last time we spoke, it was before Clarke had shot her then super-secret role on ​Nikita​ ; with the season over, she's now free to gush over that experience. "That was like entering another family because [her husband] Xander [Berkeley] had been working with them for a year and a half," she said. "It was phenomenal."
Unfortunately, they didn't get to share any scenes together, and by season's end Berkeley's character, former Division boss Percy, met his untimely end. "He's going to have a phenomenal death reel," Clarke quipped of her husband's exit from the series after two seasons - the exact same number of them he spent on ​24​ before he was killed off that show as well.
"We kind of knew going into it that being the bad guy, there would be some kind of demise but we didn't know when," she confided. "It was bittersweet. The storyline needs a natural end, but of course, he's very sad to be leaving such a great group."
As for her, having worked on two popular series already, and shooting ​Covert Affairs​ through August, "I just feel so wonderful and so blessed." And we're equally lucky to have her back on our television screens.
​Covert Affairs​ returns tonight at 10 PM ET/PT on USA.
For more from Brittany Frederick, follow me on Twitter (@tvbrittanyf).
(c)2012 Brittany Frederick/Digital Airwaves. All rights reserved. No reproduction permitted.