Sara Gilbert Reveals Girlfriend Linda Perry's Elaborate Wedding Proposal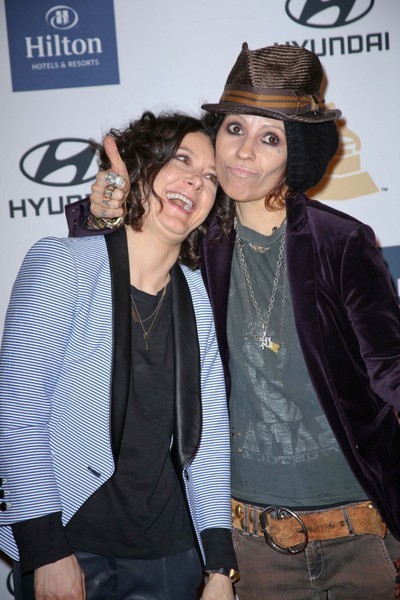 Actress Sara Gilbert announced her engagement to songwriter Linda Perry on Monday during her show The Talk, revealing all the deatails of the former 4 Non Blondes singer's elaborate proposal.

Gilbert, 38, said that Perry, 47, popped the question during a recent picnic in Los Angeles -- and that she went to great lengths to make it the perfect day.

"We go to a park, and we have food and we're eating it, it's really sweet and there's this guy sitting playing guitar, like a street musician, and he starts playing this song that we love," Gilbert said, "I'm like, 'Oh, that's so weird, this is so magical and amazing.'"

Perry then asked the musician to play The Cure's classic "Love Song."

"So that ends and she's like, 'Oh, I'm gonna ask him to play this other song,' but this other song is really obscure and this guy wouldn't know it, but magically he knows it," Gilbert added. "...And suddenly the people picnicking next to us pull out string instruments from under the blanket and walk over and they start playing Love Song (by the Cure)... Then [Linda] goes to her backpack and she pulls out some T-shirts and the first T-shirt says, 'Will,' and then she puts on another T-Shirt that says, 'You,' Marry, Me and the last one is a question mark. And then she goes to her backpack and gets a ring."

Perry also arranged for both of their mothers and a few other friends to take part, along with 80s singer John Waite, who showed up to play his 1984 hit and their favorite song, "Missing You."

"It's like the most amazing proposal ever," Gilbert said.

The two women began dating in 2011.