Sara Gilbert And Linda Perry Wed In Small, 'Magical,' Ceremony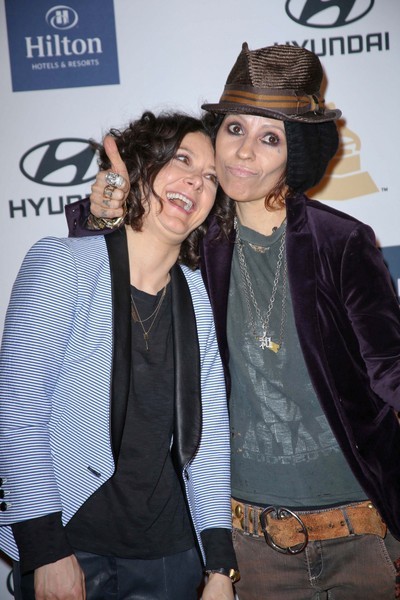 Songwriter Linda Perry and talk show host Sara Gilbert married in California over the weekend, exchanging vows in a low-key ceremony.

The couple, who began dating in 2011, went off on their honeymoon afterward, while Marie Osmond and Carnie Wilson filled in for Gilbert on "The Talk."

Show regulars Aisha Tyler and Julie Chen confirmed the news during Monday's show, revealing few details.

"It was an amazing, amazing night," Tyler told the audience.

"[It was] beautiful and it was at sunset and just overlooking the ocean," she added. "I mean we can't tell much about it because we want Sara to talk about it."

"It was magical," Chen chimed in. "It was the most beautiful ceremony...

"When she returns on Monday, we're going to show you pictures from the wedding and talk about it."

Perry, 48, proposed last April during a picnic she had set up to surprise Gilbert, 39; who says it was "amazing."

"I'm sitting there listening and I'm kind of daydreaming and I'm thinking like, 'If I ever proposed to her this would be an amazing way to do it.' The people picnicking next to us pull out string instruments from under the blanket, walk over and they start playing 'Love Song.'

"She goes to her backpack and she pulls out these T-shirts and the first T-Shirt says 'will' and then puts on another T-shirt and it says, 'you,' then 'marry,' 'me.' It was the most amazing proposal ever."

Gilbert has two children with TV producer Allison Adler, son Levi, 9, who Adler gave birth to, and daughter Sawyer, 6, who was born to Gilbert.