Sara Colleton Plays Coy About 'Dexter' Finale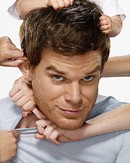 Everyone's talking about the Dexter finale, and there's no shortage of people trying to ferret out what's going to happen as the serial-killer series counts down to the end of season five (which airs Sunday at 9 PM ET/PT). In a "relatively spoiler-free" interview with The Hollywood Reporter, the sometimes coy executive producer Sara Colleton drew out the tease a little longer with some interesting answers to some burning questions. All we really know for sure is that Sunday's episode allegedly "is going to emotionally tie in everything that was unleashed last year."
"He couldn't save Rita [so] he saves Lumen," she continues when asked about the relationship between Dexter and his new partner, and her possible survival, though while she says "saved," she refuses to explicitly talk about if Lumen lives past Sunday. "This is an odd way that Dexter is atoning for his part in Rita's death; he has stumbled upon perhaps the soul mate of his life." That certainly casts some interesting doubt on Dex's relationship with Rita; if Lumen could be his soul mate, what does that make Rita? Or were they both soul mates for the different sides of his personality? I can only speculate, but I hope that if the show does bring Lumen and Dexter even closer together, it doesn't diminish or push aside what Dexter had with Rita. It's the romantic in me, I suppose.
The other character whose fate is a huge talking point is Quinn (Desmond Harrington). While Harrington hinted that Quinn is in trouble, Colleton erases any doubt left about his being in danger. She says, "It will be Dexter who is holding Quinn's fate in his hands and Quinn has been a thorn in his side big time." She also floats the question of if Quinn is the best person for Dex's sister Debra (Jennifer Carpenter) to be dating. Considering he's not a serial killer, he's still got a pulse, and we've seen him confess some serious feelings for her, I'd say he's definitely the best - and a vast improvement over her horrible past dating life.
Speaking of Deb, will she ever wise up and realize what her brother is up to? There's an acknowledgement that the issue has to be dealt with, but frustratingly there are no concrete plans to do so. "I think in some seasons we're going to have to deal with it because it is so profound. I don't know when, but we will. I don't know yet because we're not there." Hopefully they'll get there before they make Deb look as stupid professionally as she's been made to look with her shoddy personal life. Am I the only one who feels the woman needs a break already?
Dexter''s fifth-season finale airs Sunday on Showtime.
Need to catch up with Dexter? Full show coverage is available in the Dexter category at my blog, DigitalAirwaves.net.