Sara Bareilles To Make Her Acting Debut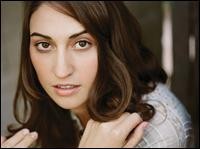 Singer/songwriter Sara Bareilles is set to make her acting debut - as herself - in a Nickelodeon kids show.

The Love Song hit-maker, who is currently touring America with country duo Sugarland, recently completed her very first acting assignment in TV series Bucket & Skinner's Epic Adventures, and she couldn't be more excited about her first gig.

She tells Entertainment Weekly, "Each and every person made me feel so incredibly welcomed and encouraged. I'm brand new to acting, so I appreciated feeling so supported, and those kids are absolutely awesome."

"I'm a little disappointed I didn't get 'slimed' but maybe I'll be back."

The show is set to air on July 24th.